Wildcats busy in preparation of early season contest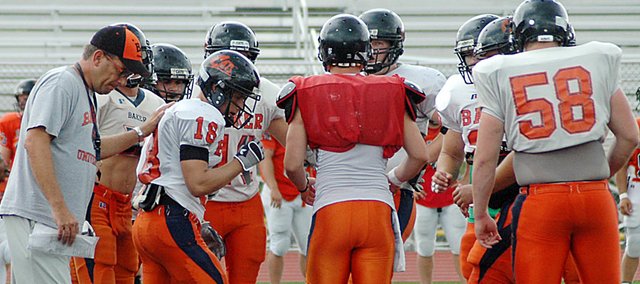 Mike Grossner is dealing with lack of practice time before his season opener for the second straight season.
A year ago, the Baker University football coach wasn't able to hold two-a-day practices because the start of the fall semester was too close to the first day of practice. This year that problem is gone, but he's faced with another adversary.
The Wildcats kicked off their season on Saturday. That gave them exactly two weeks until their opening contest at Ottawa University.
"We've got a few more days of two-a-days this week and then game week," Grossner said. "We're excited. Last year, we only had two days before school started so we didn't get in any two-a-days. This year, we got going Saturday afternoon and we've been doing two-a-days since then."
On Tuesday, Grossner wasn't thinking too far ahead. He was just pleased with the progress of his team and their first few practices.
"Practices are going great," he said. "We are into practice number eight already. This thing is flying by so fast. We've gotten in a lot of great work already, because of the later start to school.
Like other local fall teams, the Wildcats enjoyed cooler temperatures Sunday. However, they battled some warmer weather Saturday for their opening day.
"That first day was warm," Grossner said. "As long as everybody stays healthy, we'll be OK. On Saturday, we did a conditioning test and two practices. That was our hottest day. Only one guy cramped up, but then the weather cooled down Sunday. It gets warm in the afternoon on the turf, but we need it. We need to be in shape for that first game."
On Tuesday, the Wildcats endured some rain during their scrimmage. It wasn't that weather that had Grossner talking later that day. He was thrilled by what he saw from his players.
"We had a nice scrimmage today in the rain," he said. "I was worried that we weren't going to get it in, but we did. Players on both sides of the ball made plays. I was excited to see the defense running around, because we have some speed and some playmakers on defense. Offensively, we have some playmakers. We didn't click right away, but that will come with time. Overall, I was excited about how we looked as a team."
Baker has several holes in the offense to fill from a year ago. Four-year starting quarterback Mack Brown, star running back Richie Bryant, school-record holding kicker Derek Doerfler and several wide receivers played their final season last fall.
Although the season is young, the Wildcats' coach has been happy with the position battles and the progress of his players on offense.
"Offensively, both of our quarterbacks are playing well," Grossner said. "They are battling for that starting job. We've got some playmakers at wide out and we've got some speed there this year. Four out of our five offensive linemen are back this year, too. A pleasant surprise has been at our tight end position. We've got two guys playing at a high level right now."
The Wildcats didn't lose as many stars on defense and because of that, Grossner is excited about his defensive unit.
"On defense, I think we are getting some good production out of our secondary players," Grossner said. "Our defensive line seems to be gelling. We've moved some guys inside or outside and they have adapted well. Our linebacker core is solid, but we need somebody to step up and be our third linebacker. Once that happens, I think we'll come together."
Baker opens the season with the Victory Sports First Down Classic at 6 p.m. Aug. 28 in Ottawa.