Singing cicadas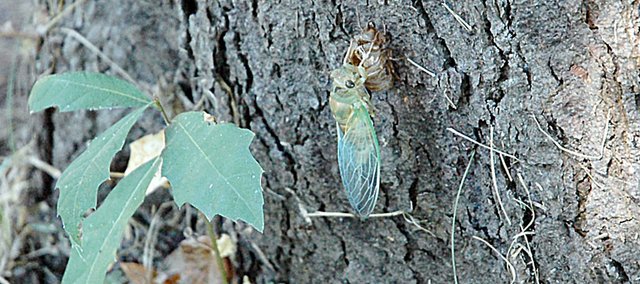 It's one of those sounds that mean summer — the almost constant evening and night commotion made by cicadas. They've been around for weeks and will likely be around that much longer. The website cicadamania.com is devoted to them and offer answers for frequently asked questions.
Q. Just what are cicadas and how do they make that noise?
A. Cicadas are insects, best known for the sound made by the males of the species. The males make that sound by flexing their tymbals, which are drum-like organs found on their abdomens. Female cicadas also make sound by flicking their wings, but it isn't the same as the song cicadas are known for.
Q. Are there different types of cicadas?
A. There are more than 100 species of cicada in North American and more than 2,000 species around the world. Cicadas exist on every continent except Antarctica.
Q. What types of cicadas are around here?
A. In North America, there are two main types of cicadas: periodical and annual. The periodical has a 13- to 17-year life cycle and emerges in broods, millions at a time. They are also known as Magicicada, 17-year cicadas and "locusts." The annual have a two- to seven-year life cycle, emerge annually and emerge a few at a time.
Q. What is the life cycle of cicadas?
A. Cicadas begin life as a rice-shaped egg. Once the egg hatches, the cicada begins to feed on tree fluids. At this point, they look like a termite or small white ant. Once ready, the cicada then falls to the ground where it will dig until it finds a root to feed on and it will stay there between two and 17 years. The cicada then emerges from the ground as a nymph and climbs the nearest tree to shed their nymph exoskeleton. Free of their old skin, their wings can inflate with fluid and their new skin can harden. Once their new wings and body are ready, they can begin their brief adult life.
Q. What happens from there?
A. Adult cicadas, also called imagoes, spend their time in trees looking for a mate. Males sing, females respond, mating begins and the cycle of life begins again.