School board approves Merle Venable Complex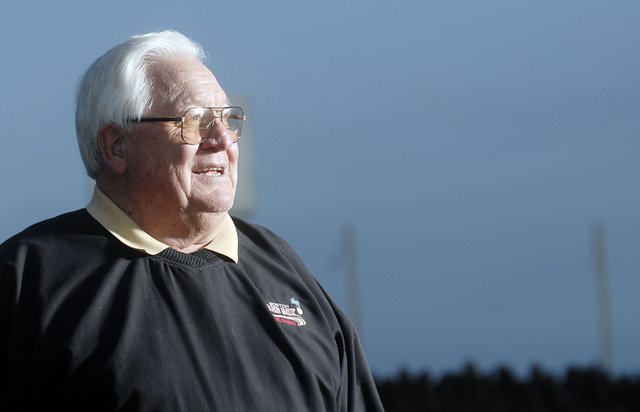 After months of discussion by the Baldwin School Board, Merle Venable is one giant step closer to being honored by his former Baldwin High School football players.
Scott Lauridsen, school board member and former BHS football player, brought his proposed naming facilities policy to the Aug. 9 meeting, hoping for the school board's approval. In the end, he did receive a unanimous vote, but it wasn't on his new policy.
"I'm trying to de-scope this back to the original intent, which was an athletics facility naming policy," Lauridsen said at the meeting.
Soon after the policy was read, Board Member Ruth Barkley threw out her opinion on the topic.
"I'm ready to have a naming policy in place and I'm tired of tripping over the small details," Barkley said. "I think it should be at the discretion of the board, period."
During the past several months, Barkley was one of the board members who tried to expand the policy. At a previous meeting, she said a generic policy left the school board open to anyone with a proposal to honor someone. She was afraid that it might get out of hand and force the school board to make tough decisions. She wanted more criteria to make the policy more specific.
Supt. Paul Dorathy even gave his advice on the subject.
"I'm not sure we can't just go back to the original suggestion," he said. "That takes us right back to where we were this winter."
Lauridsen said he was fine with going back to the original policy, which stated that proposals for naming facilities in the district need the school board's approval.
"I'm very happy," Lauridsen said after the meeting. "It was a little bit surprising, but I think that's how it's supposed to work. The board thought about it and talked about it, but then came back to what it thought was the appropriate policy. The process took longer than we thought, but I appreciate the fact that we went through the process. Whatever board members are sitting in those seven seats have the final say anyway."
The sports complex around BHS and Baldwin Junior High School is now named the Merle Venable Baldwin High School Sports Complex. It includes the BHS practice football fields, track, soccer field and tennis courts.
Lauridsen said the facilities inside the complex might be named later, but the entire complex is named after the former BHS football coach. He also said there will be no cost to the district for approving this. He said any signage would be paid for by private funds.
"There's a large group of people that is very interested in supporting this," Lauridsen said. "I'll probably reach out to some individuals who have already offered up some skill sets they had to do that. We'll put something together to bring to the board for approval. Then I imagine we'll have some sort of recognition ceremony. I could see doing it at a high school game, where more people are going to be. It's more about the recognition than where it's held. We don't have a football field, so here's the next best thing we can do."
Venable came to BHS in 1966 and left in 1984, but came back as a substitute teacher for many years. During his 19-year tenure, he was head football and track coach every year. He led the Bulldogs to a state football championship in 1981 and they were state runners-up in 1971 and 1978.