Brown wins national award as director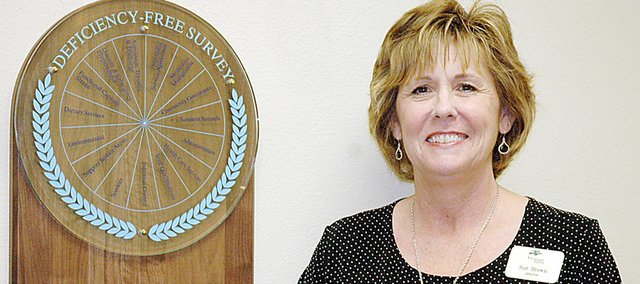 This year, Sue Brown took it to another level. The Vintage Park Assisted Living director went from the state's best to the nation's best.
Brown was named the winner of the National Centers for Assisted Living Director of the Year award and will be recognized at the national convention in October in California. Last year, Brown won the state version of the director of the year award.
"I'm overwhelmed, sort of," said Brown. "I just can't think of it. I remember being at the conference last year and listening to the person who won it. I would have never thought it would be someone who does what they do. That's what I do. I just do what I do. I don't do what I do to get recognition."
Even though she was surprised last year to win the state award, this year's news was even more shocking.
"My goodness," she said. "I was quite blown away by this. I didn't know the state winners were nominated for nationals. It is a fairly big deal. It's pretty exciting. It sure is. We're making plans for the California trip."
The criteria used to choose the national winner is specific. Some of those items are demonstrating innovation, achievement and capabilities in providing high-quality, person-centered care in assisted living. Also cited are strong leadership, communication and teamwork skills.
"We are extremely proud of Sue Brown for her latest achievement," said Denise German, director of operations for Vintage Park. "We know Sue takes a personal interest in each resident and staff person and conducts her day with integrity and a high standard of ethics."