Seed spitters give it their best shot at Vinland Fair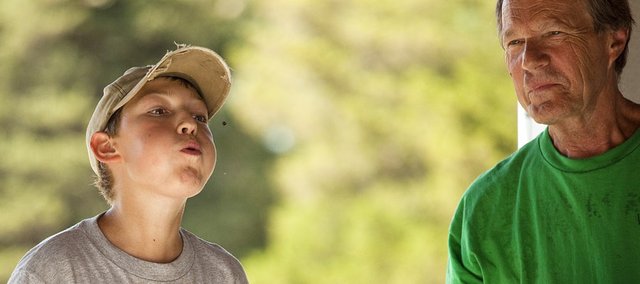 They won the competition but couldn't really tell you why or how.
Bafflement highlighted the attitudes of the winners at the Vinland Fair's fourth annual watermelon seed-spitting contest.
Eight-year-old Keagan Shockley, of Eudora, took first place in the 6- to 9-year-old category in her first ever seed-spitting contest.
"I just kind of leaned back" and spit, Keagan said.
Asked how he took first in his age division, 13-year-old Dalton Vesecky, of Vinland, couldn't really pinpoint a particular strategy either.
"I don't know," he said. "I have more breath?"
But he owes some of the credit to his sister, who was standing at the end of the spitting lane.
"I aimed for her," he said.
Either way, Dalton's mom, Joanna, beamed with the joy of her son's success.
"It's a proud moment," she joked. "At least he beat the girls."
The contest was started by Barbara Maycock and her husband, Dave, four years ago. Barbara said she came up with the idea after finding some dollar T-shirts at a store that depicted a watermelon seed-spitting contest. She thought such a contest would be the perfect place to offer the T-shirts as prizes.
The rules for her version of the contest are pretty simple. Contestants in eight divisions step up to the Vinland Fair stage and get three watermelon seeds to spit. They let 'em fly, and the farthest one counts. The only caveat is that the seeds must remain within a 4-foot-wide lane on the stage, so aim matters.
The event has caught on; dozens competed Saturday, including a handful of adults who battled it out in the over-21 division — many after watching their children compete. The kids won T-shirts and popsicles. The adult winners took home a bottle of Boone's Farm watermelon wine.
So can we call the Vinland Fair's watermelon seed-spitting contest a tradition?
"It is now," Maycock said.