Smaller Frontier League changes schedules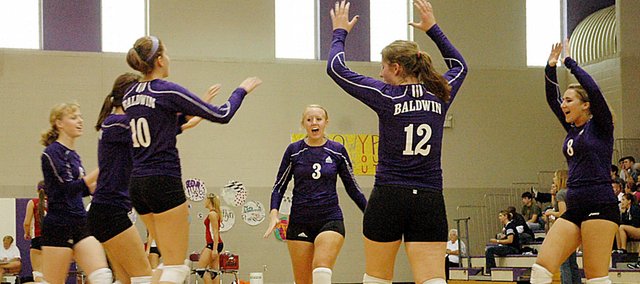 For the third time in six years, the Frontier League has changed its size.
A once large, 13-team organization has dwindled down to seven schools. In 2004, the league expanded from 10 to 13 teams with the additions of Ottawa, De Soto and Central Heights. In 2007, it shrank to eight teams as Central Heights, Anderson County, Osawatomie, Prairie View and Wellsville left to form the Pioneer League.
Then Gardner-Edgerton announced its decision to leave the league in 2009. It was the largest school in the league, as its enrollment almost doubled Ottawa, which had the second highest. The Trailblazers are now in a league with other Class 5A schools.
So that leaves Baldwin, De Soto, Eudora, Louisburg, Ottawa, Paola and Spring Hill remaining in the Frontier League. The new league begins this fall.
"We all should be 4A, but Ottawa is always close to being 5A and that just depends on the year," Baldwin High School Activities Director Gary Stevanus said. "Right now we are all 4A for football. De Soto could maybe jump to 5A, but right now everyone is 4A. It should be pretty competitive."
'Even competition' is how most BHS coaches are describing the new league. As the largest school, Gardner-Edgerton dominated some sports, such as football and baseball. With seven schools in 4A, coaches are hoping for a balanced league this year.
"From top to bottom, it should be a balanced league," BHS football coach Mike Berg said. "That's about the best way to put it. Everybody is 4A now and we're very competitive. It should be very balanced."
Other BHS coaches felt the league was fairly balanced in some sports, but they understood why Gardner-Edgerton joined a league with larger schools.
"We've always competed really well with them, even though they were strong the last couple of years," BHS girls' basketball coach Bob Martin said. "I think they had gotten to a point where they probably needed to go in another direction. If they are going to be a competitive team in 5A, they need to play that kind of schedule. We were never afraid to play them because they were always good competition. But I think it's the best thing for them and best thing overall for our league."
BHS volleyball coach Kelly Brown also felt the previous eight-team league was competitive, but is excited to see how things will unfold this year.
"I think it will definitely be a balanced league," she said. "For me, it's kind of always seemed balanced on the volleyball level. Ottawa returns everyone, so they should be tough. But we beat some of the other league teams this summer, so it should be interesting to see how this season unfolds."
Basketball, soccer and volleyball will see the biggest changes with the smaller league. Their schedules have changed dramatically from a year ago. Basketball and soccer teams will play the other six league schools at home and on the road.
The volleyball schedules will be different, but possibly more fan friendly, according to Stevanus. The football teams will play each league school once, as they have for the past two years.
"A lot of sports will do double round-robin against the league teams," Stevanus said. "We have been doing that in baseball and softball for the last few years. Basketball and soccer will each go home-and-home for their league games.
"In volleyball, we'll also play everybody once on freshman, junior varsity and varsity nights," he said. "We hope it's going to be fan friendly. So if Baldwin is at Eudora, we don't have to worry about the varsity and JV being at different places. Then all of the teams will play again in the league tournament."
BHS coaches were happy with the scheduling changes.
"There are a lot of coaches that would rather do a quad, where you play three varsity-only games one night," Brown said. "For me as a coach, I really enjoy having my assistant coaches on the bench with me. I enjoy watching kids play at every level. It's always nice to have an extra set of eyes with you as a coach. Plus, these nights will draw bigger crowds. I think our girls will be pumped up for those Tuesday nights because we have our entire program traveling together. I am definitely looking forward to those nights."
During the past couple years, basketball teams have played each league team once and a couple of league schools elsewhere during the season in non-league contests. This created confusion about which contest was a league game. The BHS basketball coaches hope the new schedule will help produce a true league champion and end the confusion.
"I think it will help determine an out-right league champion," BHS boys' coach Eric Toot said. "It's better than playing everyone once and some teams twice. This helps take care of that confusion since all games will be league games. A home-and-home system will determine a true league champion."
Martin agreed with his counterpart.
"One thing I really like about it is we play a double round-robin in basketball, so we play every team home and away," he said. "That will help determine a fair league champion. If you put any value on the league championship, I think it's going to be a good thing."
As for any discussion of adding an eighth team, Stevanus said there is none right now.
"We've talked about it, but finding the right team to fit our league is tough," Stevanus said. "We'd want them to be close to us, location-wise, but we also want them to offer similar programs. There are a few schools that we've all mentioned, but they are pretty happy where they are at right now. We're going to see how it goes with seven teams for a couple of years."
More like this story