School district enrollment increases at most schools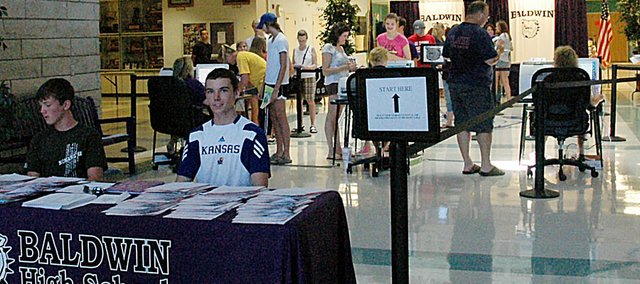 While numbers won't be official for more than a month, the Baldwin School District's enrollment might be up a couple dozen students from a year ago.
Baldwin held its district-wide enrollment day Aug. 3, but all six schools have been enrolling students every day since Aug. 3. It's kept building principals and secretaries busy during the past nine days.
"We are still enrolling students as I speak," Tammy Thomasson, Baldwin Junior High School principal, said Monday. "We have 18 new students to our building and we're missing some from last year."
As of Tuesday, the total head count for the district was 1,437. That is an increase in 11 students from the first day of school a year ago, when the head count was 1,426. However, it's still down seven students from two years ago.
"It appears that we will be up this year," Supt. Paul Dorathy said. "I can't really nail that down for sure, because we've had a number of students who have not enrolled yet. We're anticipating a number of those students will enroll before the first day of school. Based on that, it appears our enrollment will increase this year."
The largest increase in attendance is the Baldwin Elementary School Primary Center. The new building, which is planned to be open after Labor Day, will include all 4-year-old and kindergarten classes in the district, as well as the third graders who would normally go to the Baldwin Elementary School Intermediate Center. More students occupying the new building means more new facilities weighting money for the school district.
"We'd tried to place more students in that building to take advantage of the new facilities weighting money, without undoing too much of what our plans were for that building," Dorathy said. "We did make some changes to that plan, but it will help us receive more money from the state."
BESPC ended the 2009-2010 school year with 271 students. This year, the school has already enrolled 376 students. Dozens of those students will be third graders, whose BESPC placement decreased the BESIC enrollment from 224 last year to 157 this year. Of those 157, 11 are new students in the fifth grade.
Baldwin High School and Baldwin Junior High School have also increased their enrollments from last May. BHS ended last year with 405 students, but they've already enrolled 415 students for the 2010-2011 school year. BJHS finished last school year with 335 and that number has increased to 349 for this year. Included in that number are 18 new students.
Marion Springs Elementary School and Vinland Elementary School both have decreased enrollments. Both schools lost their kindergarten classrooms to the new BESPC and MSES lost a 4-year-old class, too.
MSES has an enrollment of 71 right now, with VES at 69 as of Monday. Last year, the schools had 103 and 80 students at the beginning of the school year.
All schools' enrollments will be official on Sept. 20. That is the official count day for all districts in the state of Kansas.