BHS

athletes, coaches anxious to start Monday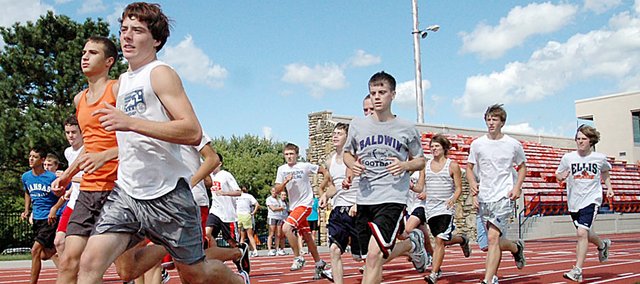 Monday morning will begin the annual rite of passage for all high school and junior high school athletics in the state.
When it comes to excitement surrounding the first day of fall practice, this year is no different. Students and coaches from Baldwin High School and Baldwin Junior High School are anxious for Monday.
"I am really excited to finally get practice started, because we have been training really hard," sophomore cross country runner Sienna Durr said. "I'm excited to see how well it will pay off."
The athletes aren't the only ones ready to start practicing for the fall season. Some of the coaches are ready to start the 2010 season and forget about disappointing 2009 campaigns.
"I'm most definitely excited about practice starting," said BHS football coach Mike Berg, whose squad went 2-8 a year ago. "It seems like it's been a long offseason. There were two things the kids could have done after last fall. They could have felt sorry for themselves or worked harder to get better. They chose to work harder."
Kelly Brown, BHS volleyball coach, is also anxious to see her team practice and start playing games. The Bulldogs ended last season 6-27 despite hopes of a much-improved record. After what she deems a successful summer, Brown is excited for next week.
"I'm looking forward to starting practice," she said. "It's always an exciting time of the year with school and fall sports starting up. We've have about 25 girls at preseason conditioning this year, so we're more prepared than we ever have been."
Berg is also confident many of his players will be entering the first week of practice well conditioned. He was pleased with their summer workouts and hope it carries over to the fall season.
"I think they were ready June 1 when we went to that St. Mary's team camp," Berg said. "There was a lot of excitement when they got to put the pads back on. We are in really good shape right now. They have been very dedicated and committed to the offseason workouts and conditioning."
Football and volleyball are two of the four BHS sports that will be having two-a-day practices this first week. Cross country and soccer will be joining them. The football team will be going at 6 a.m. and 6 p.m., with the volleyball players starting at 6:30 a.m. and 3 p.m. on Monday.
The cross country teams will be running at 6:30 a.m. and 7 p.m. Meanwhile the soccer team will be holding practice at 8 a.m. and 7 p.m.
"I'm not really a huge fan of two-a-day practices, but you can tell that it really helps out in the end," Durr said. "I do like morning runs, because it is usually nice out, but going to school afterwards isn't that fun."
The other BHS fall sport, girls' tennis, will start practice at 3:30 p.m. on Monday. BJHS football and volleyball will begin their practices at 3:30 p.m. and 3:15 p.m., respectively.
The first team to open the season with a game is the BHS soccer squad, which has a home contest Aug. 28.