Small town marathon experiences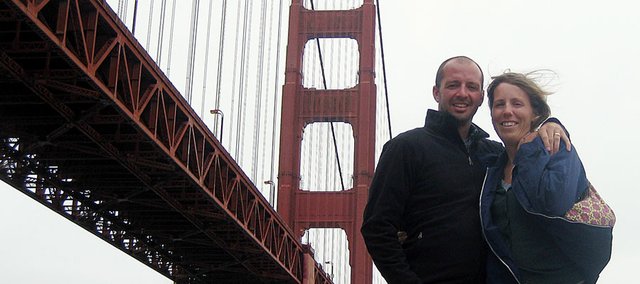 For their 14th wedding anniversary, Baldwin City residents Kit and Sarah Harris ran across San Francisco's famed Golden Gate Bridge.
Then they ran back across it.
They continued running for many more miles until their 26.2-mile race was complete. On July 25, the local couple completed the San Francisco Marathon on the day before their anniversary.
"It was nice," K. Harris said. "It was nice and cool, but you couldn't see much early on. It was a great run, because it took us through the cool sights of the city. We ran across the Golden Gate Bridge twice. We also ran through some of the famous areas of the city."
Both parties enjoyed the run and the sights during the run, but they had differing opinions about the Golden Gate Bridge.
"It was crowded across the bridge," S. Harris said. "You had to do a lot of weaving in and out, so it slowed you down quite a bit."
K. Harris acknowledged it was crowded, but he enjoyed the experience.
"It was windy, but it was really cool," K. Harris said. "You could look out and see Alcatraz and the fog was everywhere. That was a really awesome part of the race."
The Baldwin City couple had a goal of breaking four hours at the marathon, but it wasn't to be that day.
"We were trying to break four hours," S. Harris said. "I think that's why we stayed together for much of the race, because once we realized we weren't going to break four, we decided to have fun and run together."
They both ran together for much of the race, at least until K. Harris' legs started cramping. Then the final three miles of the grueling race became a struggle for him. Yet, with one mile remaining, he found the energy to pass his wife.
"We thought we'd naturally stay together for the first half of the race and then see if one of us was feeling good," K. Harris said. "We pretty much ran together until mile 23 or so. Then I had cramps, so I had to stop and stretch. Then I would run hard, so we were kind of going back and forth for a while.
"I got to the last mile and I thought I better just finish, because my legs might completely cramp and I'd be done," he said. "So I just pushed it as fast as I could to the finish."
He finished in a time around 4:12 with his wife about 30 seconds behind him. Her time wasn't officially recorded at the finish line, but it was added later after they informed race organizers of the mistake.
Both of them enjoyed the experience of running the marathon a day before their wedding anniversary. When asked whose idea it was, S. Harris gave her husband the credit.
"I was just looking for a marathon to run this summer and there aren't a lot to run around here during the summer," K. Harris said. "I just happened to see that one online. It was one day from our anniversary and Sarah's brother lives there. I thought it would be perfect."
He came up with the idea soon after she completed the Lawrence Marathon, so it took some convincing. She eventually agreed to run it as a couple.
"I liked the idea," she said. "It was somewhere cool and it's a neat city."
The July 25 race was S. Harris' third marathon. She also ran one in Lincoln, Neb. Her fastest time of 4:06 came in Lawrence. Her husband ran his first marathon in Springfield, Mo.
Local – long distance
Although Kit and Sarah Harris might be the most recent Baldwin City residents to complete a marathon, they are far from the only ones who've run the 26.2-mile race. Numerous locals have run one or more marathons during their lifetime.
Baldwin's most experienced marathon runners might be Steve and Annette Pierce. After running careers at the University of Kansas, they went on to complete around 15 marathons apiece.
"Our interest started after college," A. Pierce said. "There aren't too many other opportunities in running, unless you're really, really fast, which I wasn't. It works out, because I'm fit for marathon running, because I don't get injured and I like to run long distances. So it worked."
They've not only run more than a dozen marathons, they've run them all over the world and they run fast times. Their U.S. locations include Kansas City, St. Louis, Duluth (Minn.), Lincoln (Neb.), New York City and Boston. They've also run marathons in Hong Kong, Florence (Italy) and Frankfurt (Germany).
"It's kind of by accident, we've run races all around," A. Pierce said. "We've been all over."
They each had their own favorite location. A. Pierce chose Duluth for many reasons, but it didn't hurt that it's where she ran her fastest time, 2:45.
"It was a nice race and really pretty course," A. Pierce said. "That's also where I ran my best time. I've done that one a couple of times. It's well organized and usually has nice weather."
For S. Pierce, his experience in Italy was tops. He said he was in the top five until the final few miles, but he still enjoyed the race.
"I'd say Florence was one of the best ones," he said. "I ran close to my PR at that race. I had a really good run and the ambiance made it very special. It was a fairly big international race and I still ended up in the top 20."
Steve's best time was 2:26, which he ran in St. Louis. He didn't come close to his time in New York City or Boston, but he enjoyed experiencing both legendary races.
"As far as an outcome, they were both pretty poor," S. Pierce said. "It's a tough choice. I enjoyed them both. I'd give Boston the slight edge over New York."
Richard Ebel was another Baldwin City resident who ran the Boston Marathon. He ran the famed race in 1992 and still remembers it to this day.
"It was probably the greatest athletic experience that I've ever had as an individual," Ebel said. "It's kind of the grand daddy of all marathons. If you're a serious runner, you have to try and run that once. It was pretty awesome."
He got a different start to marathon running. After college, he ran his first in Wichita, but had a traumatic experience that took a toll on him for 10 years.
"I had a really bad experience at my first one in Wichita," Ebel said. "I didn't even really train for it properly. After that bad experience, I didn't run another for about 10 years. It took me a long time to get over it psychologically."
When he did come back to marathon racing, Ebel ran Boston once and the Kansas City race three times. In his final race, he broke the three-hour barrier. He ran 2:58 at his last marathon in Kansas City.
"It's pretty hard to do for just an average runner," Ebel said of breaking three hours. "It's about 6:50 pace per mile. I did it once."
Jill Boyle, Andy Norris and Penny Durr are three other Baldwin City residents who have completed marathons. Boyle was the most recent, as she finished her first in the Kansas Marathon on April 18 in Lawrence.
"I had interest in running one and the proximity to Lawrence helped, too," Boyle said. "I was 35, so I decided now was the time to run a full one. I also like training through the winter, as opposed to the summer, so a spring marathon was good timing for me."
Boyle's time of 3:42 also qualified her for the Boston Marathon. She plans to run her second in Wichita this fall and if it goes well, run Boston in April 2011.
"I did well," Boyle said. "One of my goals was to run 3:45 or faster and I ran 3:42. I was very happy."
Norris has run four marathons in his life. He's run in Tulsa twice, Kansas City once and Olathe once. His fastest time of 3:38 came in Kansas City on a day he didn't expect to run fast.
"That one was kind of fun," Norris said. "I didn't have any expectations. I had been sick about a month before that, so I didn't run for about two weeks. Then I tried to run a few days before the marathon. I decided to go ahead and tried it with no expectations and I ran my best time."
Durr has also run the Tulsa marathon. She is looking to run the race a second time later this year.
Running a second one is an idea most marathon runners have after they complete their first.
"Once you do it, I think it's always in the back of your mind that you're going to try and do it again," Ebel said.