Services Monday for former Kansas chief justice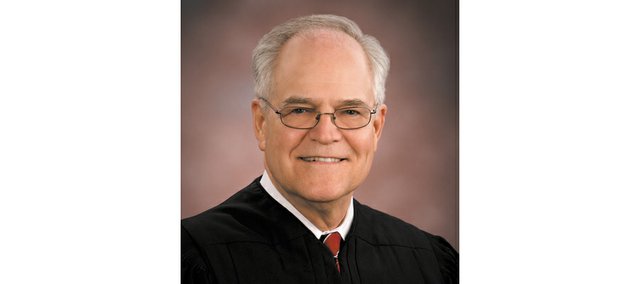 Leavenworth — Services for former Kansas Chief Justice Robert E. Davis, who died late Wednesday, will be Monday in Leavenworth.
Mass of Christian Burial for Davis will be at 10 a.m. Monday at Immaculate Conception Church. Burial will be at Mount Calvary Cemetery, Lansing.
The 70-year-old jurist died a day after he retired from the court. Davis had been chief hustice since January 2009 and had served 17 years on the court.
Governor Mark Parkinson has directed flags throughout the state of Kansas to be flown at half staff through Monday in Davis' memory.
"Late Wednesday night, Kansas lost a great jurist with the death of Chief Justice Bob Davis," said Parkinson. "He was a brilliant but humble man who passionately advocated his positions, without ever being argumentative. But Chief Justice Davis was much more than a great judge. He made every person he encountered, regardless of their relative stature in the world, feel like they were the most important person he had ever met. Kansas didn't just lose a brilliant justice on Wednesday night; we lost a great man and a true Kansan."
Lawton R. Nuss, who succeeds Davis as chief justice, in a letter to all judges and employees of the Kansas judicial branch, said although they may feel badly at the loss, "we should remember the times we shared with Chief Justice Davis in good times and bad. And we should especially remember how, under his leadership, we worked hard to provide access to justice for the citizens of our state."
Justice Lee A. Johnson said, "We on the court will miss Bob's spirited, yet respectful, discussions of legal issues. More importantly, we will miss our good friend."
Justice Eric S. Rosen said he viewed Davis "not just as a fellow jurist, but as a trusted friend and adviser." Rosen said he "marveled at Davis' strength and determination" in continuing to undertake his administrative duties and caseload notwithstanding serious health issues."
In a letter to Governor Mark Parkinson announcing his retirement, Davis cited medical issues as prompting his decision to retire. He was on medical leave this spring and summer, but continued to work on court administrative matters and his caseload as his health permitted.
Davis had been a member of the Supreme Court since 1993. Before his appointment to the tribunal, he served eight years on the State Court of Appeals and before that as a judge of the Leavenworth County District Court.
Davis engaged in private practice in Leavenworth from 1967 to 1984, when he was appointed associate district judge. While in private practice he served as Leavenworth County attorney from 1981 to 1984. He also served as a magistrate judge in Leavenworth County from 1969 to 1976. After serving as an associate district judge for two years, Davis was appointed to the Kansas Court of Appeals in 1986, where he served until appointment to the Supreme Court in 1993.
In addition to service with the Kansas courts, Davis served as a member of the U.S. Army Judge Advocate General's Corps, including as trial counsel in the Republic of Korea and as government appellate counsel from 1964 to 1967 in Washington, D.C.
He received a bachelor's degree from Creighton University, Omaha, Neb., and a law degree from Georgetown University Law School, Washington, D.C.
Davis was active in numerous civic and professional organizations throughout his career.
Visitation will be from 4 to 6 p.m. Sunday at the R.L. Leintz Funeral Home, where a rosary will be prayed at 6 p.m.