Students' art on display at Lumberyard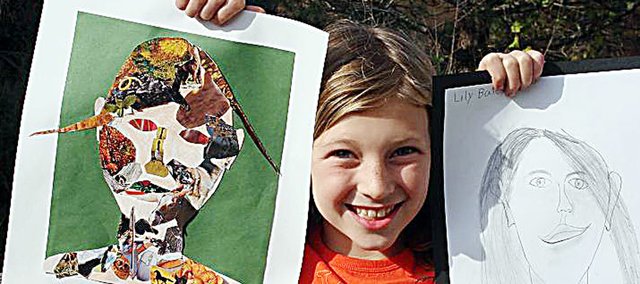 Baldwin School District art exhibits continue at the Lumberyard Arts Center with the Baldwin Junior High School students' "Alice in Wonderland" show during regular gallery hours through Saturday, May 1. This features place settings for the Mad Hatter's Tea Party with highly imaginative use of unusual materials for the plates, cups and spoons, paintings taken from the original "Alice in Wonderland" book as interpreted by the students and some 3-D work, including the Cheshire Cat.
On Thursday, May 6 from 6 to 8 p.m., an exhibit by Baldwin School District elementary students will open with their show entitled, "Elementary Art - A Little Thing That Makes a Big Difference." Flyers around the area feature a "refrigerator art" invitation to the show, created by fifth grader Hannah Parks.
Elementary art teachers having student works in this upcoming exhibit are Sheryl Drew and Jill Boyle. Drew started teaching elementary art for the district in 1999.
"Although I am certified to teach K-12, and had taught at BHS for the past five years, it was refreshing to return to the elementary level again," said Drew. "The fearless approach to the creation of art that occurs at this level often gave me results that moved me unexpectedly. The artwork that has been created by the Marion Springs Elementary School's four-year-olds' program, and all the way up through fifth grade, from both MSES and the Baldwin Intermediate Center is just wonderful."
"The LAC is delighted to be able to provide this venue for the student artwork, which is so unique and so original," said Sandy Cardens, Lumberyard Gallery Director.
"The students are thrilled to be showing in a 'real' gallery, just like professional artists," said Drew. "We hope to have a huge turn-out on opening night. Everyone is invited."