School board discusses budget cuts, fee increases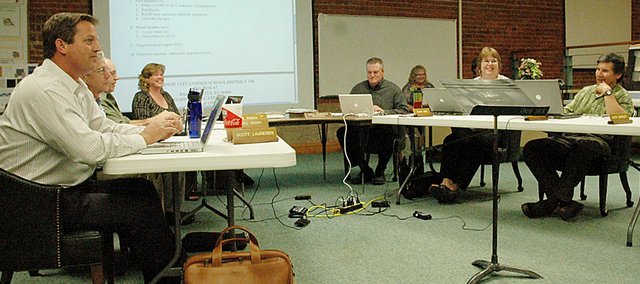 Baldwin School District students might be paying a lot more to participate in activities and sports next year.
During this school year, participants paid $40 per activity at Baldwin High School and Baldwin Junior High School. However, those user fees could increase dramatically for the 2010-2011 school year, according to the Baldwin School Board on Monday night.
"I'm more willing to try this than risk the kids in the classroom," Board Member Blaine Cone said.
The school board made no decision Monday. However, the board discussed the possibility of increasing those fees from $10 to $220. According to the activity budget report from Gary Stevanus, activities director, the current user fee of $40 brings in about $20 per student, because students that receive free or reduced lunches have reduced fees or the fees are waived.
The report also said the district would need to charge $220 per student per activity to cover all of the costs associated with activities. That number didn't sit well with school board members.
"I'm not comfortable with $200 per activity," Board Member Scott Lauridsen said. "I think we need to decide how much of the activity costs do we want to fund."
Board Member Bill Busby threw out 50 percent of activities should be funded by user fees. He said he just gave that number to start the discussion. Cone responded by saying that the district would have to charge the full $220 to get 50 percent of that money, because the district only averages 50 percent of the fees currently.
The school board finally decided to bring in $50,000 more from activities, which cost the district around $250,000 this year. The board members were unsure how much that would increase fees, but hope to have that information for their next meeting Monday night.
"It scares me to think that we would be going into unknown waters," Busby said.
The increased activity fees is one of the ways the school board is trying to deal with a potentially large cut to next year's budget. Baldwin could be facing an approximately $500,000 cut from the state legislature for next year. However, the legislature hasn't approved the state's budget, so districts around the state are preparing for a decision.
"We're going to have to look at some big-ticket items and those items aren't very popular," Supt. Paul Dorathy said. "I know I've said before we are at the point where we can't keep cutting some budget items."
The school board discussed some of those items Monday night. Several decisions that could be made are increasing textbook fees, replacing librarians with aides and retiring some administrators.
No decision was made on textbook fees, but Dorathy suggested that item to the board. Dorathy said the district will save $34,000 by replacing the librarians with aides and $72,000 with the retirements.
The school board also discussed personnel cuts during executive session Monday. After all of the suggested cuts were combined, the board had found nearly $280,000 in cuts.
Then came the bigger items, such as closing one or two of the rural elementary schools. None of the board members seemed to support closing both Vinland and Marion Springs elementary schools.
"I'll throw out an opinion or two and see if we can start a discussion," Board Member Ande Parks said. "It's just pure opinion, for me, closing two schools isn't possible, because of our buildings."
Closing one of the buildings wasn't out of the question. One of the main concerns for board members was increased class sizes. Some were OK with increasing class sizes by two students, while others thought four to six students would be OK.
"I think it's more about having quality teachers, than class sizes," Lauridsen said. "According to a report I read, if you have a poor teacher, the class size is irrelevant, and if you have a quality teacher, the class size is also irrelevant."
The other two large-budget items that were on the fact-finding report that were discussed Monday were elementary attendance centers and four-day school week. The attendance centers are still an option, according to board members, but the four-day school week seems to be off the table.
The school board will meet at 6:30 p.m. Monday at the District Office to continue its budget discussion.