Paola scores early, often against
BHS

softball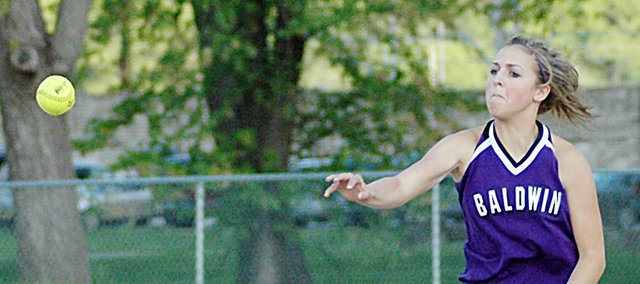 PAOLA — If Bob Martin could take back the first two innings of each game here Tuesday night, he would in a flash.
Martin's Baldwin High School softball team (6-6) was swept by the Panthers. Baldwin lost 11-1 in five innings and 7-2 in seven innings.
"We gave them too many outs during the first couple of innings in the first game," coach Bob Martin said. "Against a good team, that is pretty much too much to overcome. They are a good team with pitching and we had trouble hitting and scoring runs. It was a tough night all around for us, but I thought we fought hard and hung in there. If it wasn't for a couple of innings, we're right in there with them."
Most of the Panthers' runs came in the opening innings of both contests. They scored nine runs in the first inning of the opener and followed that up with the other two runs in the second inning.
"We kept fighting, but we really just beat ourselves, I thought," sophomore Kaysha Green said. "We made many mistakes in the first game and that took full effect. They kept happening over and over. We just couldn't dig ourselves back out of that hole.
"They didn't do anything extra special, but they wanted it way more than we did today," Green said. "It showed a lot."
In the second game, Paola scored three in the first and two in the second to jump out to a 5-0 lead. Once Paola had a large lead, the Bulldogs played them evenly for the remainder of the contest.
"We just kind of fell apart for a few innings," sophomore Alexis Finucane said. "We pulled it together and played better in the second game, since we didn't get run ruled. We just have to eliminate those bad innings.
"We just need to work together and talk more," Finucane said. "We definitely need to have more communication on the field. It's the little things that we need to do better."'
Finucane and Green scored two of Baldwin's three runs Tuesday. Junior Kyla Good scored the other. Green hit a single in the third inning of the first game to reach base. Sophomore Madeline Brungardt slapped an RBI single to send Green home.
Finucane pinch ran for senior Kelsi Burton during the sixth inning of the second game. Brungardt hit a sacrifice fly, which scored Finucane. Good got her run in the seventh inning on an RBI single from freshman Kaitlin Jorgensen.
"I thought we competed well all night," Martin said. "I'd say the score was a little closer than the scoreboard showed."
Finucane made several plays in the field that impressed her coaches. Playing second base, she turned two double plays in the first game. She also had a couple of nice stops and catches.
"After that first one, I got on a roll and kept going," Finucane said. "I'm not sure what it was tonight. I almost think it's easier when the ball is hit harder, because you have less time to react. The ball is just there so quickly. I like it when it's hit harder. When it's hit slow, it gives you more time to think about messing up."
Baldwin will play its next four games at home. BHS will host Prairie View at 4:30 p.m. Friday and Eudora at 4:30 p.m. Tuesday.
"We are working hard to get better," Martin said. "That's really positive. We just need to keep doing it bit by bit and get better in time. I think we're going to be all right."