Bulldogs rally to sweep Panthers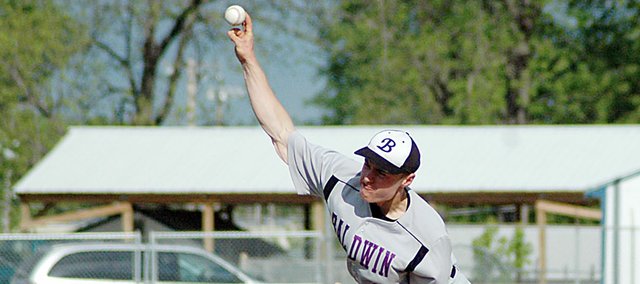 PAOLA — Kyle Pattrick's seventh-inning performance here Tuesday night was comparable to legendary New York Yankees' closer Mariano Rivera.
A six-run, sixth inning rally by the Baldwin High School baseball team gave Pattrick a 7-5 lead heading into the bottom of the seventh inning. Pattrick struck out the first batter swinging. He nearly struck out the next two batters, but they were walked, putting the tying run on first base.
Two runners on base didn't rattle the BHS junior. He responded by leaving the next two batters standing at the plate watching the third strike fly by them. Both batters faced full counts before striking out and sitting down. That 7-5 victory secured the Bulldogs' sweep of Paola.
"It was nerve racking," Pattrick said of the seventh inning. "I definitely wanted to get three outs and not lose. I came out trying to throw strikes and let them hit the ball to my teammates. I ended up just not letting them hit the ball at all."
After the first batter struck out, none of the remaining four batters swung at a single pitch. When asked if he'd rather the batters swing or watch the pitches, Pattrick just said he enjoys strikeouts either way.
"I don't really care," he said about strikeouts. "I'll take both."
Unlike Rivera, Pattrick won't get the save. He actually earned the win as he pitched the final three innings of the contest. That's impressive, considering the circumstances he was battling Tuesday night.
"KP was battling a migraine tonight and could only play that position," coach Brock Hartshorn said. "He had no vision on either side, so he said 'just pitch me.'"
The Bulldogs' sixth inning rally made Pattrick's pitching performance possible. Junior Josh Hoffman scored in the first inning to give BHS a 1-0 lead. However, Paola scored five runs during the next three innings to take a 5-1 lead heading into the sixth inning.
With one out already recorded, Pattrick hit a single, which was followed by a double by junior Nate Growcock. The Bulldogs continued to roll during the inning as junior Landon Ausherman, sophomore Tyler Brenn, junior Connor Sublett, sophomore Hunter Burkhart, freshman Tyler Cawley and freshman Taylor Hartshorn all reached base.
Junior Justin Vander Tuig pinch ran for Brenn and scored the tying run. It was Vander Tuig's fifth pinch run of the day. He was unable to play because of injury, but he could pinch run and he made the most of the opportunity.
"Justin ran for Nate as the designated runner, because you can courtesy run for your pitcher, which he did all game," coach Hartshorn said. "So we ran him for Nate and he happens to score when Brynn gets on. Now he can come into the game as a real player. He did score two runs in one inning. He helps us with his speed."
T. Hartshorn hit a two-run double that gave the Bulldogs the lead. His father was proud of his son.
"We had a big game-winning hit from Taylor Hartshorn," coach Hartshorn said. "He had a two-strike, two-out hit, which was huge as a freshman. I'm proud of all of the kids, especially during that rally."
The entire Baldwin team enjoyed the six-run rally.
"We kicked the ball around before that and they scored a couple of runs," Pattrick said. "We all decided that we were going to come back and win this game. People were doing what they needed to do at the plate and on base. It was definitely the most fun we've had in an inning this year. That inning was crazy."
In the first game of the doubleheader, BHS took an early lead and never looked back. Baldwin led 6-1 after the second inning before cruising to an 11-3 victory to get the sweep.
Vander Tuig led the team with three runs. Hoffman and Sublett each added two apiece. Pattrick, Ausherman, Burkhart and Hartshorn all scored once.
"This was really exciting," Pattrick said. "It was our first sweep of the season. That's a pretty good ball team and we just played really well. We were all excited when we got here. The start of the second half of the season was tonight."
The Bulldogs will play four of its next five games at home. They travel to Garnett for one game at 4 p.m. Friday. Then the Bulldogs host a doubleheader against Wellsville, beginning at 10 a.m. Saturday, and Eudora, starting at 4:30 p.m. Tuesday.