BHS

ties for second at league tennis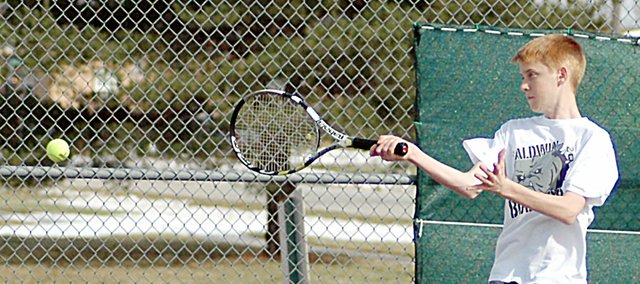 Baldwin High School's boys' tennis team fared well at the Frontier League meet Tuesday in Spring Hill, as three of the four Bulldogs placed in the top three.
Baldwin tied De Soto for second place as a team. Spring Hill won the meet.
BHS junior Chris Schrapel finished a perfect, 5-0 as the No. 2 singles player. He won this bracket.
"Chris played very well," coach Justin Hoffman said. "He got behind in his match against the Spring Hill kid, but came back to win. He had lost to that player earlier in the year and it is always good to avenge a loss, especially as we approach postseason play."
The Bulldogs' No. 2 doubles team, consisting of junior Tim Larson and sophomore Tucker Brown, finished runner-up in the No. 2 double spot as they went 4-1 at the tournament.
"Tim and Tucker played together for the first time this year," Hoffman said. "Tucker is playing doubles at the varsity level for the first time ever. I was very impressed by how well they played together. They both hit the ball well all day and played actively at the net. They could become a very strong doubles team as they learn each other's game."
Senior Levi Moore was the Bulldogs' No. 1 singles player Tuesday. He went 3-2 and finished in third. His coach said it wasn't Moore's best day, but he expects him to bounce back.
"Levi struggled a little today," Hoffman said. "He was at the same point last year and had postseason success. His game will get better over the course of the next week or so. He is a tough competitor and will always play to the end."
Baldwin's other participants were the No. 1 doubles team of junior McKinley Dick and senior Sam Cooper.
"Although they only won one match, they were in the most competitive division and played well overall," Hoffman said. "They had opportunities to win in every match. They just could not win the crucial points."
Baldwin will compete at the Smoky Valley Tournament today and at the Wildcat Invitational in De Soto on Saturday.