Offense comes alive as
BHS

sweeps Louisburg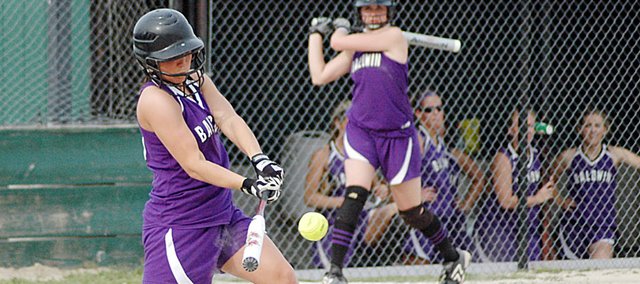 LOUISBURG — MacKenzie Flory ended her hitting slump here Tuesday night. Unfortunately, there was a casualty during the play.
During the fourth inning of the second game, Flory came to the plate with one runner aboard. The BHS senior drilled a shot deep over the center field fence for a two-run homer. It was her first of the season.
"It felt really good," Flory said. "Not playing last year kind of hurt me a little bit and I went through a hitting slump during our first few games. It felt good to finally come out tonight and hit the ball well."
There was only one problem with the swing. Flory cracked her bat when she crushed the ball.
"She really cranked that thing and broke her bat doing it," coach Bob Martin said.
The loss of the bat was saddening to Flory, who immediately knew she hit a home run. She even had some fun jogging (or dancing) from third base to home plate.
"Oh yeah, it felt so good when I hit it," Flory said. "It broke my bat though. I almost cried. I did a little dance from third to home. I had to have some fun."
Flory's home run was the first by a Bulldog this season. It also helped the Bulldogs defeat the hometown Wildcats 16-3. Baldwin (6-4) also won the first game of the Frontier League doubleheader 13-1.
"It feels good to come out with two wins after we struggled early in the season," Flory said. "I thought we played well as a team and we all wanted it really badly, because (assistant) coach (Ginger) Crist couldn't be here. We won tonight for her."
Baldwin dominated both games. BHS jumped out to a 2-0 lead in the first inning of the opening contest and never looked back until the twinbill was complete.
BHS sophomore Hayley Schwartz pitched all seven innings of the first game. She allowed four hits and struck out eight batters. Senior Kelsi Burton pitched the second contest.
"Our pitchers did a nice job of keeping them off balance," Martin said. "We also made plays in the field. We didn't make many mistakes out there. If we can do that and give our offense a chance, we should be OK."
Sophomore Kaysha Green and junior Karlee Beach each had three hits. The others with two hits were junior Kyla Good, sophomore Madeline Brungardt, Schwartz and Flory.
"It was good to finally hit well and connect at the plate," Flory said. "We struggled in some of our early games. Lately, we've been working hard in practice to improve our hitting. I think it's paid off."
Offensive production continued during the second game. Baldwin took a 4-0 lead in the first inning and ran with it. That increased to 7-0 in the second. After three runs by Louisburg, Baldwin answered with six runs in the final two innings. Scoring the final runs for BHS were Green, Brungardt, junior Aspen Brooks and sophomore Alexis Finucane. Green and Brungardt scored two apiece.
"We are playing better and we did a lot of good things today," Martin said. "We pitched well and our defense looked good. We hit the ball and ran the bases well. Overall, it was a very good day for us. That's a good sign."
Baldwin will host Saint James Academy for a single game at 4:30 p.m. today. Then BHS will travel to Paola for a doubleheader Tuesday.
"I feel like we are getting better," Martin said. "We will find out during the next few games if we are getting better, but I feel like we are right now."