BHS

No. 1 in state again for restaurant proposal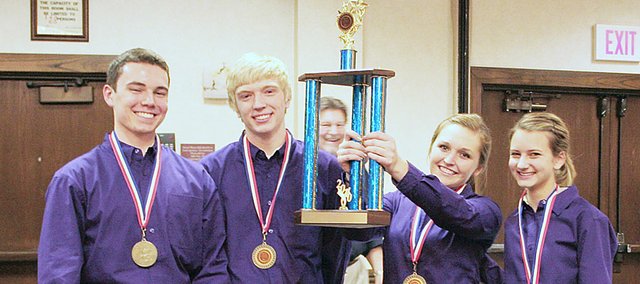 Baldwin High School students aren't only the best in the state at engineering and designing an airplane.
It seems they are also talented at developing a business proposal for a new restaurant concept.
A few weeks ago, Baldwin High won the Kansas ProStart Management Team competition in Wichita. This year was the second for the management portion of the contest. BHS has won both state championships.
"It helped having last year's team win," sophomore Ellie Parr said. "We looked at their plan and portfolio, because that's what the judges liked."
Parr joined junior Colin Thomas, sophomore Kara Hoegerl and sophomore Britton Schroeder on the BHS management team. None of the group was on the 2009 team that won the state contest. However, BHS teacher Sandra Lawson tried her best to keep them on task.
"Mrs. Lawson really wanted us to do as good," Schroeder said. "She knew that last year's team went in there and did really well and she knew that we could, too. I guess we put everything off until the last few weeks, so she started getting nervous about it."
That last-minute preparation might have prepared the Bulldogs for their most-challenging task of the contest. At state, they were supposed to have their PowerPoint presentation ready by 5 p.m. the day before the contest.
Shortly before the deadline, the BHS students tried to upload the presentation. There was one problem — the file was corrupt.
"We were really happy the judges let us make another presentation," Hoegerl said. "Normally, they'd just disqualify you, but they let us make a new one."
Schroeder and Thomas immediately began working on the team's new PowerPoint slide show. They worked overnight and finished at 2 a.m.
"It was kind of like cramming for a test," Thomas said. "We've become familiar with it since the contest."
The BHS students crammed the knowledge of their new PowerPoint into their heads two hours before they were due to present. Schroeder was pleased with the new presentation.
"Actually, our new one ended up being a lot better than our old one," Schroeder said.
Although the Bulldogs, especially Thomas, were confident with their proposal and presentation, they were a bit shocked to win. Even after collecting their trophy, they were still in awe of the victory.
"We were really excited, but we were also really surprised," Thomas said. "A lot of our work was done at the end. So it was really rewarding that we ended up winning. When we walked out of the room, it was hard to believe we had just won."
Winning concept
A year ago, the BHS students designed a wood-fired oven pizzeria for the state contest. Their design and presentation were available for this year's team to review and they used it before creating their own project.
This year's design was a hamburger restaurant called the Cross Country Grill. The students got their idea after visiting Blanc Burgers in Kansas City, Kan. However, they added their own flair to their restaurant.
"We specialize in hamburgers," Hoegerl said. "We are going to add another theme for nationals, but we will have five themes in our restaurant. We're going to have Southwest, Hollywood, Beach, Rocky Mountain and New York themes."
The Cross Country Grill will be decorated according to the themes. Each section's booths and tables will be designed differently. In addition, they wanted the entire restaurant to be connected so there is a highway drawn into the floor that connects all of the sections together.
"Basically, we also have a burger to go with each region of the United States," Schroeder said.
At the state contest, the team could create only nine menu items, which limited their possibilities. The majority of the menu items were specialty hamburgers, but they also created a salad and dessert.
"We're throwing away our display board," Parr said. "We are changing the menu, too. There is so much to do before nationals."
Last year's national competition was in San Diego, Calif., but this year's contest is much closer. Some of the students were disappointed they will be competing in Overland Park this year, but if it were further away, the trip might not be possible.
"I don't think we would be able to go if it wasn't in Kansas City," Lawson said. "We'd have to ask for donations or raise money somehow. There is no way we'd be able to go, because of the funding."
BHS will present at the National ProStart Invitational from 10 a.m. to 11:15 a.m. May 1 at the Overland Park Convention Center.
"We're really excited for nationals," Thomas said. "Even though it's just in Kansas City, it will be fun."