BHS

baseball loses doubleheader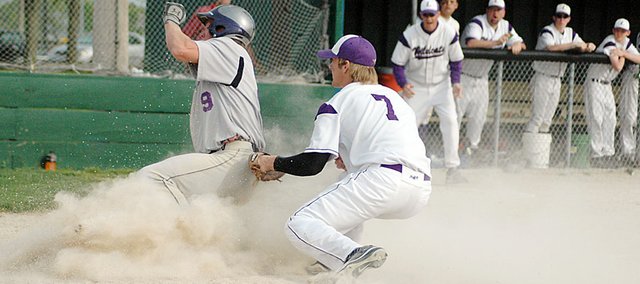 LOUISBURG — After winning the opening game on the new varsity field last week, Baldwin High School baseball's players left here Tuesday with two losses they'd soon like to forget.
The Bulldogs' doubleheader Tuesday went entirely in favor of the Louisburg Wildcats. The Bulldogs managed only two runs, while allowing 21 to their opponent. Louisburg won 9-1 and 12-1.
"These were two that got away from us tonight that we thought we should have at least split tonight," coach Brock Hartshorn said. "We didn't play very well at all."
The first contest was low scoring for the first three innings as Louisburg maintained a 1-0 lead. Baldwin tied the game in the top of the fourth. Junior Josh Hoffman scored from third base on a passed ball. He emerged from a close call at home safe, tying the game 1-1.
In the second game, junior Will Von Bargen scored in the top of the first inning. He reached base on a single and scored on an RBI single from junior Kyle Pattrick. However, the Bulldogs' offense struggled after the opening inning.
"We are not hitting the ball very well at all right now," Hartshorn said. "We are hitting in spurts. We can't string anything together. We started to string something together at the end, but got a bad call from the umpire. Hopefully, we can start hitting better in our upcoming games."
The Bulldogs' coach was pleased that his team never gave up Tuesday night and he hopes they can improve for games today and Friday.
"We battled in both games," Hartshorn said. "Our starting pitcher played well again. Nate (Growcock) only gave up one run in three innings, but we just didn't pitch well the rest of the night. They hit the ball pretty well against us. We made a couple of errors, but not too many. We just couldn't get them out. We just didn't play well, but the kids feel like they can bounce back later this week. We just have to do a lot more work."
Baldwin did pick up one win last week. On Thursday, BHS hosted Christ Preparatory Academy, Overland Park, on the new varsity field at the complex in west Baldwin. Baldwin defeated the Patriots 11-7.
"It was nice to win on this field," Hartshorn said. "The kids came out excited and played like it was their home field. They are excited to get the win. We played pretty well in the first half of the game, but then we put it on cruise control. Despite the rough start, we came back and got the win."
The Bulldogs were happy to play on their new field. They played two previous games at the complex against Ottawa, but they were on the smaller, junior varsity field.
"It felt really nice," Hoffman said. "It's nice to know we have a nice complex to play on now. I know they've been pushing to get it done, so it's nice to see the final product."
Baldwin will be on the road for the next week. BHS will play single games at Anderson County and Santa Fe Trail today and Friday, before heading to Paola on Tuesday for a doubleheader.