Some painful project progress on 11th St.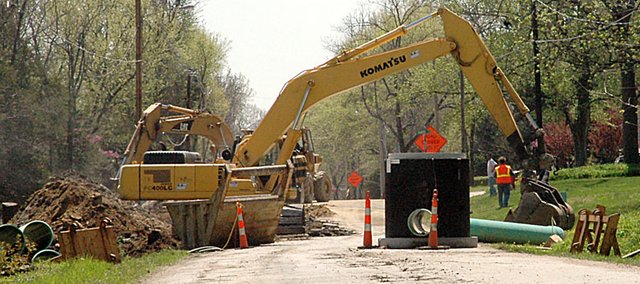 Sometimes a squeaky wheel really does get the grease.
That's what happened over the past week after several residents of 11th Street complained to the city about the sewer line construction project that has rendered their street practically impassable, as well as caused problems with ditches.
Lee Whaley, who lives at 11th and Fremont, and is a former Baldwin City Councilman, brought his concerns about the project to last week's council meeting. By Tuesday, he was pleased with what he'd seen in regards to problems being fixed.
"They are doing that satisfactorily," said Whaley. "I do feel like it (he was listened to), yes. I am satisfied. I know it will be awhile before there can be any paving done."
He was also pleased with how quickly there was a response.
"Almost immediately they were out to work on it," said Whaley. "They're working on the ditches now."
Another 11th Street resident, Danny McMillen, who also is a member of the Baldwin City Planning Commission, isn't thrilled by the construction, the inconvenience and the dirt, but he knows it's necessary.
"I think it's a part of progress, but it's a real pain," said McMillen. "I understand what had to happen. They're getting busy and approaching the messes. It's been a lot of problems.
"I'm tired of the dirt and dust," he said. "Everybody goes up and down it like it's still a freeway. All I can say is the city better put a street back in."
Bill Winegar, director of public works, is overseeing the project and, along with City Administrator Jeff Dingman, have expressed concerns to the contractor, Meadows Construction.
"I've spoken to Bill about it a couple of times," said McMillen.
Dingman said they're keeping a close eye on it.
"It is a construction site; we expected it would be a mess," said Dingman. "It is a bit worse than expected; the contractor ran across some issues that slowed them down, and there will be a lot of street repair needed, but we anticipated that. They are trying to stay on top of the cleanup."
The current work is phase 2 of the sewer line project, which replaces the line from the treatment plant to FireTree Estates. It will eliminate the need for the lift station in FireTree. The project was originally expected to cost around $1.7 million, but low bids on both phases brought it down to $1.2 million, a 28 percent reduction.