School board seeking public input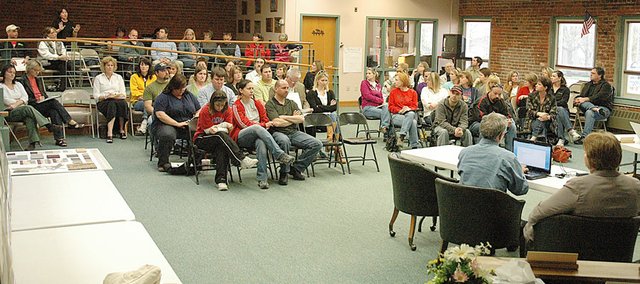 Baldwin's School Board will be busy during the next two weeks as it has three meetings planned.
A pair of the meetings will be for community input only. The meetings will begin at 6:30 p.m. The first one was Thursday and the other is April 20, both at the District Office.
"They're not going to reply to the public," Supt. Paul Dorathy said of the board members. "They are going to give people an opportunity to express their feelings about what should happen or not happen."
The meetings are being held so the public has a chance to voice its opinion about possible budget cuts that might come down from the state legislature. With large cuts more than likely looming, the district formed a fact-finding committee in December to look at large-item cuts. The seven items on the fact-finding report were four-day school week, elementary attendance centers, closing one elementary school, closing two elementary schools, transportation, activities and administration organization.
The committee researched figures on how much could be saved on those items, but it also researched the positive and negative effects of those changes. Dorathy and board members have said those are not the only items being considered for cuts, but those were the largest possible cuts.
The school board and committee members met on March 22 and reviewed the report. It is now available to the public on the district's Web site, www.usd348.com.
"They really should take a look at the report and read it over before coming to the meeting," Dorathy said. "It answers a lot of questions about how things might happen if we had to do one of those items."
The school board's other meeting is the regular monthly meeting. It's at 6:30 p.m. Monday at the District Office. At most meetings, the board goes into executive session from 6:30 p.m. to 7 p.m. The agenda for the meeting is also on the district's Web site.
"I think the board is going to be looking at a lot of budget items for next year's budget during the next couple of weeks," Dorathy said. "They want to hear what the public has to say about what we might do with the budget next year.
"Of course, we have the meeting on the 8th and the 20th that are specifically for that, but they most certainly can come to the regular board meeting on Monday and give input," he said. "The board will be busy doing a lot of listening at those two public input meetings."