Neighbors: Mary Lou Klein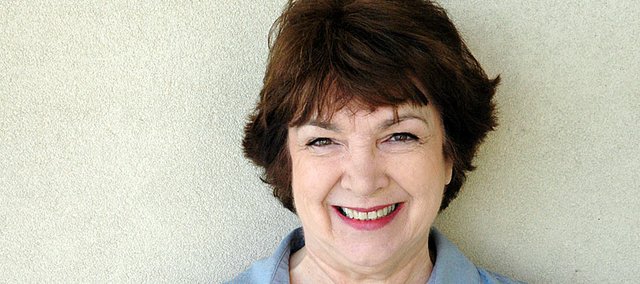 Name: Mary Lou Klein
Occupation: Pastor of St. John's United Church of Christ
Family: Husband Ron; three daughters, 11 grandchildren; and my beloved in-laws
Place of birth: Los Angeles
Q. How long have you lived in Baldwin City and what brought you here?
A. Six years and counting — we moved here to be close to our daughters and their families. We took a compass and drew a circle with a 40-mile radius around where they live and of all the choices, Baldwin City was the best. Its location, beauty, and small town atmosphere are still so appealing!
Q. What's the biggest risk you've ever taken?
A. Going back to college in my 40s and/or giving birth: both were scary but rewarding.
Q. What's the best piece of advice you've ever been given?
A. A Catholic priest once told me, "For a wedding, do nothing to lessen the joy. For a funeral, do nothing to add to the pain." Pretty good advice for human relationships, too, as we share both laughter and tears.
Q. What two things would you want people to know about you?
A. I love getting older. (Birthdays are cake, ice cream, parties and presents - what's not to like?) I've always been blessed with the best of friends, and I count my family among them.
Q. What did you want to be when you grew up?
A. An elementary teacher like my mother. My original degree was in elementary ed and now my daughter Mary Anne and her daughter Miranda are both elementary teachers. (It must be genetic!)
Q. What's the best way for you to get away from it all?
A. Books! I usually have three going: one that's popcorn for the brain, one that is professional reading and one that is current, just because.
Q. What's your ideal vacation spot?
A. Lake Michigan - St. Joseph, Mich., in particular, has beautiful Silver Beach, a lighthouse, an authentic five and dime, free community concerts, a walkable Main Street with intriguing shops, friendly people, good restaurants, a drawbridge and a train. Who could ask for anything more?
Favorite things
Song: My favorite hymn was "Lead On, O King Eternal" until my youngest daughter sang, "Lead On, Bikini Turtle."
Movie: Comedy - National Lampoon's Christmas Vacation; Chick Flick - The Notebook or A Walk in the Clouds; Western - the Lonesome Dove series
Color: Any hue of green or blue
Food: At home: pot roast. Eating out: anything on a Mexican restaurant's menu!