Easter egg hunt draws annual large crowd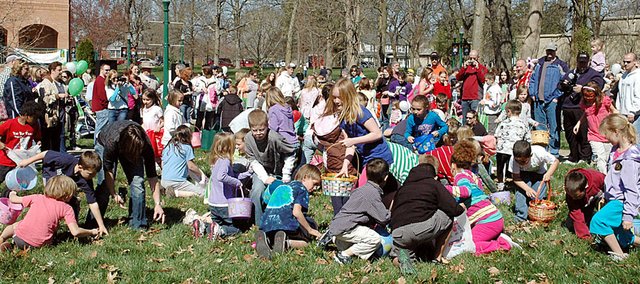 Temperatures in the 70s and blue skies made a perfect Saturday morning on Baker University's campus for an Easter Egg Hunt.
Rainbow Experience Preschool's annual event, which falls on the day before Easter Sunday, was a popular attraction again this year. Organizers and attendees were thrilled about the weather and event.
"It was a nice day," said Jill Venable, event committee member. "I don't know if we could have had better weather, especially since Friday was wet and gloomy. I was so happy it was warm and sunny on Saturday.
"I think it was close to what we normally have turn out, because the weather was so great," she said. "The weather was ideal. I saw a lot of people I recognized. It was a great turnout."
Ivan Huntoon of Baldwin State Bank who helped sponsor the event along with usual sponsor MidAmerica Bank, enjoyed the annual Easter celebration. Of course, he also attended as a father of two daughters.
"It was absolutely beautiful and Baker's campus looked great," Huntoon said. "There were a lot of families out there enjoying the nice weather. It seemed like there was a great crowd and it was well organized by Rainbow preschool."
Along with the main event of the egg hunt, Rainbow Preschool also added a silent auction several years ago. That, and their annual chili feed, are the two primary fundraisers for the preschool.
Around 50 baskets were auctioned Saturday. Many of those baskets were donated by local businesses. The auction raised, $1,112, but expenses will have to be taken out of that.
"I think all of the items in the auction were sold," Venable said. "I don't think we have anything left for next year."
There were also many activities for children Saturday. There was face painting, temporary tattoos, Baldwin City Police Department identifications, balloon animals, pictures with the Easter bunny and other games.
"Rainbow preschool has done a great job of taking an Easter egg hunt and turning it into a great community event," Huntoon said. "There's something there for kids of all ages. I think the parents have a great time, too."