BHS

softball home opener ends in loss, rainout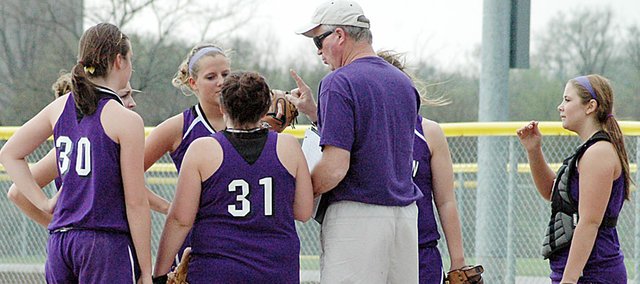 Opening day at the new ball field complex didn't quite go as well as the Baldwin High School softball team hoped it would go Tuesday.
However, the Bulldogs have a chance to split the doubleheader on Friday afternoon. The Bulldogs (2-3) lost to Ottawa in five innings, 13-2, but the second game was rained out before it started.
"It was nice to be on the new field," coach Bob Martin said Tuesday night. "The first time we got on it was yesterday at practice. It was a nice field to play on. We were hoping for a better result, but we'll get there."
Tuesday's game was the first contest for any BHS squad at the new complex south of the Baldwin Elementary School Intermediate Center. BHS fell behind 4-0 after the first two innings and Ottawa added to its lead in the fourth inning with three more runs.
Baldwin scored its only two runs of the game in the bottom of the fourth inning. Sophomore Madeline Brungardt and junior Morgan Burton reached base, before junior Karlee Beach connected on a hit to send them home.
"So far, it's been good that we have fought back and never gave up," Martin said. "We haven't quit. We're keeping good attitudes and we're going to get better."
However, Ottawa answered right back with six runs in the top of the fifth inning. The Bulldogs couldn't produce any runs and lost by the 10-run rule after five innings.
"I thought we started swinging the bats well late in the game," Martin said. "We started making a bit of a run on them in the fourth inning. Then they scored six in the fifth inning.
"I don't think we were as sharp as we were the week before," he said. "Ottawa is a good team. We are just inconsistent swinging the bats and our pitching is a little inconsistent right now. We're not too bad defensively, but we have mistakes to improve. I think the girls are getting better, but we've played a couple of good teams and they've handed it to us."
The Bulldogs were scheduled to open their home complex last Thursday against De Soto, but those games were moved because the fields weren't complete. The doubleheader was played at Johnson County 3&2 Field and neither of them went in favor of the Bulldogs.
De Soto hit a pair of home runs in the first contest en route to a 5-1 victory. Baldwin's offense began producing in the second contest, but it also gave up many more runs to the Wildcats. BHS lost 19-8.
"During the first game, they hit two home runs against us that really hurt," Martin said. "I thought we played well in that game. We didn't swing the bats well until late in the game again. Our pitching just wore down in the second game, but we did hit the ball well and scored eight runs."
The Bulldogs will make up their second game against Ottawa at 4:30 p.m. Friday. Then they will play at 4:30 p.m. Tuesday at Spring Hill.