BHS

girls crush competition at home meet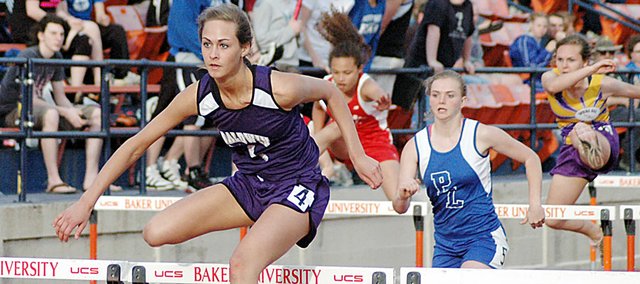 Katie Kehl wasted no time in shattering a 21-year old Baldwin High School track and field record.
At her first-ever high school meet, the BHS freshman crushed the school shot put record by nearly three feet. Kehl broke Marla McTaggart's record of 36-9 3/4 that stood since 1989 last week at the Baldwin Invitational.
Kehl's final attempt measured at 39-6 1/2. It was enough to break the school record and win the meet by nearly 5 feet.
"She had a great day and broke the school record by several feet," coach Ted Zuzzio said. "Now her goal is 40 feet."
Kehl's victory in the shot put was one of nine events won by BHS at its home meet. The BHS girls dominated the 13-team competition by scoring 199 points, which beat second-place Pittsburg by 97 points.
"We had a monster start to the season," Zuzzio said. "We won nine events and won 32 medals. It was pretty exciting. Our times were pretty good for the first meet of the year and the windy conditions. We're ahead of where we were at this time last year."
Kehl also finished runner-up in the discus to junior Allison Howard, whose throw of 120 feet set a new meet record. Howard's first throw was 114-1 and she improved on each of her four throws, ending with the 120 toss on the final attempt. Kehl threw 118-6 to finish second.
"Those two ladies did great," Zuzzio said. "Kehl shattered the shot put record in her first meet. Howard had a great throw in discus."
The BHS girls' squad also dominated on the track, winning all three relays, both hurdle races and two distance events. The Bulldogs met expectations in the hurdle races by winning both events.
BHS juniors Myranda Behrens, Lyndsey Lober and Ramie Burkhart took home five medals in the two races. In the 100-meter hurdles, Lober blew the competition away, winning in 16.23 seconds. Burkhart finished third.
"It's definitely not what I expected, but it's very exciting," Lober said. "I didn't play a winter sport, but I did play some winter volleyball, and most of the girls on the team played basketball, so I didn't think I'd perform like I did. I was out of shape early in the season and still working to get into shape. When I ran a 16.2, that completely blew me out of the water. I was amazed."
Baldwin nearly swept the 300-meter hurdle race. Behrens (49.11 seconds) won the gold as Burkhart (50.22) earned a silver medal. Freshman Monica Howard placed sixth in the race.
"They ran well and ran clean," Zuzzio said of the hurdlers. "As windy as it was, they actually ran a pretty nice time for the first meet."
The Bulldogs' victories included two distances races. Senior Connor Twombly won the 2,000-meter steeplechase, while sophomore Abi Hartzell finished runner-up. Twombly ran 8:32.51 to win the race.
Twombly finished runner-up in the 800-meter run later in the day, as the race belonged to freshman Kaitlyn Barnes. Barnes won her first-ever high school race in a time of 2:29.65.
"Kaitlyn Barnes' times were outstanding for her first meet," Zuzzio said. "She ran really well in her three races."
Barnes' other races were both relays. She helped the 1,600- and 3,200-meter relays win Thursday. The 3,200-relay team cruised to a 15-second victory. Running on the relay were Twombly, sophomore Carol Whaley, sophomore Elizabeth Sigvaldson and Barnes.
Next came the 400-meter relay team, which ran 52.44 to win. Team members were senior JaBryanna Wellington, Behrens, Lober and Burkhart. The final victory was in the 1,600 relay, which is always the final event of the meet. The Bulldogs' winning time was 4:15.88, which won by nearly 12 seconds. Barnes, Lober, Sigvaldson and Wellington ran the relay.
"We were all nervous before the 4x400," Lober said. "We didn't expect to win it by as much as we did. It was a great feeling."
The Bulldogs also medaled in seven other events. Top three in each event earned a medal Thursday. Zuzzio was proud of his entire team for their effort on a warm, windy day.
"We started with Twombly winning the steeplechase and the day got better as it unfolded," he said. "We had a lot of kids that did pretty well. It was exciting. There were 13 schools there and the purple and white were out front."
BHS will compete at the Pre-State Meet in Wichita this weekend. The meet will feature the best teams and competitors from all classes around the state.
"This weekend's competition is going to be tough," Zuzzio said. "They have an elite group and a 4A-6A group. Some of our kids will get to compete against the best in the state. It will make us better at the end of the year."