KHP

locates driver who allegedly fled scene of

U.S.

59 accident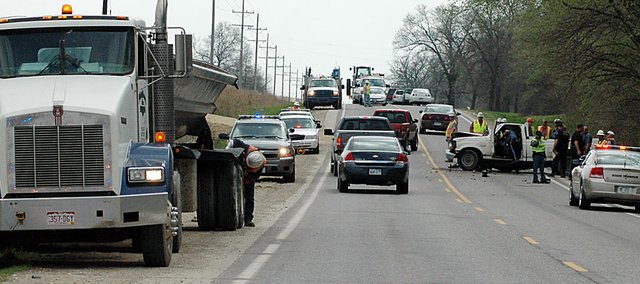 The Kansas Highway Patrol has located a driver who allegedly fled following an accident between a pickup truck and a semitrailer Tuesday on U.S. Highway 59 south of Lawrence.
Troopers found 24-year-old Lawrence resident Darin R. Curtiss at a residence in Ottawa early Wednesday afternoon.
Technical Trooper Edna Buttler said Curtiss was identified as the driver of the pickup truck that ran into the back of a semitrailer about a mile north of the Douglas-Franklin County line.
After the crash, Franklin County's K-9 unit and a highway patrol aircraft were brought in, in an attempt to locate the driver, who was seen running from the scene.
Troopers believed Curtiss was "hiding out" in the Ottawa area. A witness reported giving Curtiss a ride to the Wal-Mart Distribution Center in Ottawa later in the day Tuesday.
Buttler said a good description from witnesses and assistance from the public helped in locating Curtiss, who now faces charges of fleeing, failing to report an accident and driving on a revoked license.
A passenger in the truck, 23-year-old Brandon Ellsmore of Ottawa, was more seriously injured. Ellsmore was taken by helicopter ambulance to Kansas University Hospital.
A condition update was not available Wednesday afternoon.
The driver of the semitrailer, a 64-year-old Lawrence man, was not injured in the accident.