Bulldogs sweep Baldwin Invitational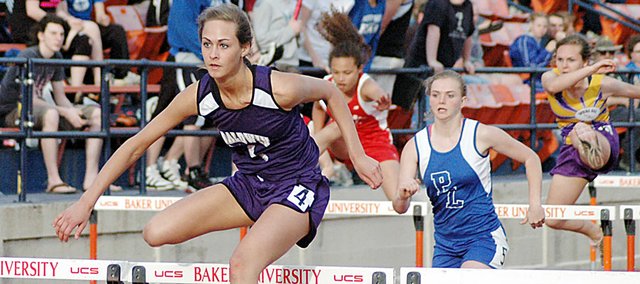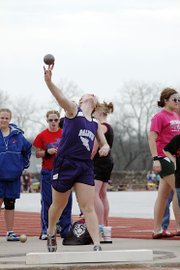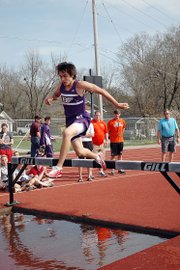 Baldwin High School's track teams sure like running at home. On Thursday, the Bulldogs won the boys' and girls' team titles at the Baldwin Invitational.
The BHS girls dominated the competition by scoring 199 points, which beat second-place Pittsburg by 97 points. The BHS boys' team won with 128 points, as Pittsburg took second with 92.
Baldwin won 12 events Thursday at Liston Stadium and placed someone in the top three of 22 events. The Bulldogs won two girls' throwing events and set a record in one.
Freshman Katie Kehl won the shot put with a throw of 39 feet, 6.5 inches. That shattered the old school record by a couple of feet. Kehl also finished runner-up in the discus to junior Allison Howard, who's throw of 120 feet set a new meet record.
The BHS girls' squad also dominated on the track, winning all three relays, both hurdle races and two distance events. The boys' team won three races.
The running events started with a one, two sweep of the girls' 2,000-meter steeplechase. Senior Connor Twombly won the race and sophomore Abi Hartzell finished runner-up. Sophomore Tosh Mihesuah won the boys' steeplechase.
Baldwin also won two other distance races. Junior Tony Weiss won the 1,600-meter run and finished second in the 3,200-meter run. Freshman Kaitlyn Barnes won her first-ever individual high school race as she cruised to victory in the 800-meter run. Twombly placed second in the race.
The BHS girls met expectations in the hurdle races by winning both events. Junior Lyndsey Lober beat everyone by more than one second in the 100-meter hurdles. Fellow junior Ramie Burkhart finished third. Burkhart also placed second to junior Myranda Behrens in the 300-meter hurdles.
The hurdle trio teamed up with senior JaBryanna Wellington to win the 400-meter relay. Lober and Wellington also ran on the winning 1,600-meter relay team with sophomore Elizabeth Sigvaldson and Barnes. The other winning race for the girls' team was the 3,200-meter relay. Running that relay were Twombly, Sigvaldson, sophomore Carol Whaley and Barnes.
Baldwin's other victory came in the boys' 200-meter run. Sophomore Shawn Berndt won the race.
There will be full stories on both teams, along with photos, in next Thursday's Signal.