Neighbors: Sean Hare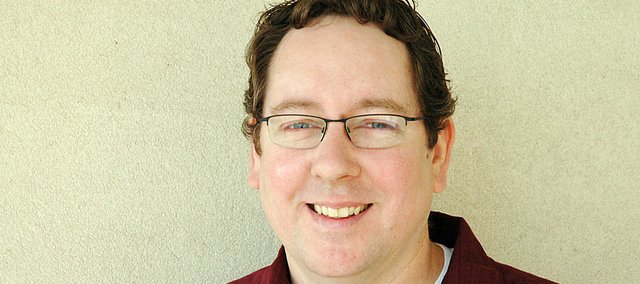 Name: Sean Hare
Occupation: Information Technology
Family: Spouse - Jana, Murphy the Dog and Cleo the Cat
Place of birth: Wichita
Q. How long have you lived in Baldwin City and what brought you here?
A. We moved to Baldwin about 4 ½ years ago. My wife was raised here and her parents are still in town so we moved to Baldwin City to be closer to family and our jobs. At the time we moved to Baldwin City, my wife was working for the Kansas State Department of Education in Topeka and I was working as a Web developer for an advertising agency in Lawrence. Baldwin City made the most sense and was a perfect fit for us.
Q. What's the biggest risk you've ever taken?
A. It's hard to call them risks when they've worked out. I wouldn't want to change anything I've done or the way my life has gone. It all seems so right, there had to be very little risk involved.
Q. What's the best piece of advice you've ever been given?
A. Never start an argument with a man who buys ink by the barrel.
Q. What two things would you want people to know about you?
A. 1.) I really do have a light-hearted side to my personality to balance the very serious side that most people see. 2.) I absolutely love music.
Q. What did you want to be when you grew up?
A. A songwriter/musician. Unfortunately, I didn't practice as much as my mom told me I should.
Q. What's the best way for you to get away from it all?
A. Go find a band or a musician playing some good music somewhere and listen. Or better yet, grab my guitar and play along.
Q. What's your ideal vacation spot?
A. I love visiting Nashville; so many amazing musicians, so little time.
Favorite things
Song: A Showman's Life – Performed by Buddy Miller
Movie: Office Space
Color: Green
Food: Chicken Fajitas on the grill at Tequila Hare's