Freshmen should make immediate impact on girls' track team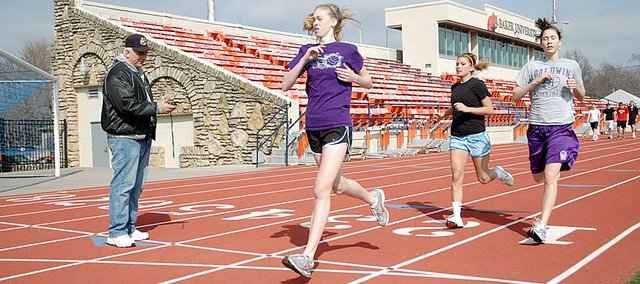 A few freshmen might just be what the Baldwin High School girls' track and field team needs to earn a state trophy this season.
BHS finished eighth as a team in 2009 and returns most of its state competitors. Add four freshmen who could make an immediate impact into the mix and the Bulldogs' bite might be as scary as its bark.
"We added some quality freshmen and returned a lot of experience back from last year," coach Ted Zuzzio said. "We've got some nice depth. We have some younger girls out this year, some who are very skilled and some who are getting better as the season progresses. We're excited about this season."
Baldwin returns 10 girls who competed at the state track and field meet last year. Several of those girls competed on the 1,600- and 3,200-meter relays that finished runner-up.
The Bulldogs now add four freshmen who should impact the team immediately and several others who will contribute. Kaitlyn Barnes, Sienna Durr, Monica Howard and Katie Kehl have high expectations surrounding them this spring.
"I'm going to try and do my best and see what happens," Barnes said. "I hope the team does well, because we'd like to win a state trophy."
Barnes enters the season with high accolades in the 400- and 800-meter runs. She set other Baldwin Junior High School track records, but she will be beneficial on the 1,600 and 3,200 relays, as well as the 800. However, she's enjoyed running longer distances in practice.
"It's been fun getting back with the cross country girls," Barnes said. "It's kind of like cross country all over again, especially on long runs."
Durr is the Bulldogs' long-distance freshmen standout. She had a solid eighth grade track season, but burst onto the scene during the fall on the BHS cross country team.
She led the Bulldogs at most of their meets this fall. Durr also finished the season by placing fourth at the Class 4A state meet. This spring, she will help the Bulldogs in the 1,600- and 3,200-meter runs.
"We should score on the track pretty well," Zuzzio said. "We've also got some talented girls in the field events as well."
Howard is a one who could compete in several events for the Bulldogs. She will most likely high jump and long jump, but she could throw javelin and run on relays, too. Zuzzio said she could help the already talented 1,600-relay squad, along with Barnes.
"We got second in both last year," he said. "We're excited about both relays this year, especially with Katelyn Barnes in the mix. She's a nice talent. Right now, our 4x400 relay is wide open. We've got several girls that could run for us and a few have stepped up ready to run the relay."
Baldwin's other freshman is Kehl. She will be the standout thrower. Zuzzio expects her to place high in the shot put and discus. Kehl will team up with junior Allison Howard, who has medaled twice at the state meet in the discus, and be a formidable duo.
"We have two state-quality girls in the discus," Zuzzio said. "Howard already has two state medals and looking for a third this year. Katie Kehl will also do great things for us this season as a freshman."
The Bulldogs' returnees should help the squad in several events, most notably the hurdle events. Juniors Lyndsey Lober, Ramie Burkhart and Myranda Behrens all competed at state a year ago in the 100- and 300-meter hurdles. Howard might also compete in the races to add to the Bulldogs' successful hurdlers.
"The hurdle races should be strong events for us," Zuzzio said. "We've got depth in both events."
The Bulldogs will look to get their season off to a fast start with the Baldwin Invitational today. It will start at 3:30 p.m. at Liston Stadium. The steeplechase will begin at 4 p.m. with the preliminary races set to start at 4:30 p.m. The finals should begin around 6 p.m.
"I'm excited for my first high school meet," Barnes said. "It will be fun to run at home. Hopefully, lots of people come out and watch us."