BHS

softball squad sweeps season opener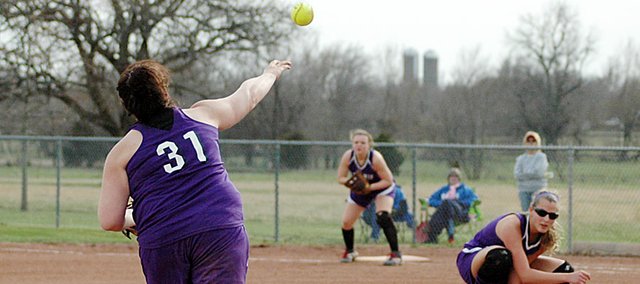 WELLSVILLE — Madeline Brungardt celebrated her 16th birthday here Tuesday night.
Her Baldwin High School softball teammates sang to her after the Bulldogs swept the Wellsville Eagles. The Bulldogs (2-0) crushed the Eagles, winning 17-6 and 17-2.
"Oh yeah, I'm so excited," said the BHS sophomore following the games. "I told the team we better win tonight, because it was my birthday. We pulled it out and it was great."
The birthday girl contributed offensively and defensively in the Bulldogs' opening games. She scored three runs in both games. Brungardt also fielded and threw out the final runner in the second contest, preserving the run-ruled victory.
"This was great for our first night," Brungardt said. "We played through the bad stuff and excelled at the good stuff tonight. This feels nice."
Excitement surrounded the entire Bulldogs' team after the victories. The second contest ended early because of the 15-run rule after three innings.
"It feels great to start the season off with two wins," sophomore Hayley Schwartz said. "This is awesome. We were a little worried about tonight, because we haven't been outside much this season."
Schwartz moved from first base as a freshman to the pitcher's mound this season. She saw very limited action on the mound last spring, but she is now the starter.
"It was a little nerve racking at first, because I haven't been in that game situation," Schwartz said. "I'm used to playing first base. But it was awesome. I had a great defense behind me the whole time, so I didn't have to freak out a whole lot. I loved it."
She only pitched the first game Tuesday. She threw six scoreless innings and recorded six strikeouts. However, Wellsville scored six runs in the second — an inning she soon forgot.
"Well, we can just forget about that inning," she joked. "We pulled through, dug it out and came back after that inning."
Baldwin trailed 6-3 after the second inning, but came back with a strong third inning. BHS scored six runs of its own to take a 9-6 lead. Baldwin opened the game up with eight runs during the next three innings, while holding Wellsville scoreless.
Junior Morgan Burton led the team with four runs. Senior MacKenzie Flory and junior Karlee Beach each added three runs for the Bulldogs. Flory had three RBIs during the win. Junior Kyla Good and sophomore Alexis Finucane each recorded a pair of RBIs.
"I thought we hit pretty decently," coach Bob Martin said. "I also thought we ran the bases very well tonight. That helped us score a lot of runs."
Baldwin had no problem continuing its offensive firepower in the second game of the doubleheader. BHS opened the game with nine runs in the top of the first inning. The Bulldogs allowed two Wellsville runs, but that would be it for the game.
BHS nearly equaled the first inning as it scored eight in the second inning. Sophomore Kaysha Green and Brungardt each scored three runs during the game. Beach and Flory added two apiece. Junior Michaela Flory and sophomore Adrienne Strobel pinch ran for seniors Kelsi Burton and Brenna Bryant, who were the pitcher and catcher for BHS.
Brungardt led the Bulldogs with four RBIs, while Beach had three and Finucane added two RBIs.
"We got two nice wins," Martin said. "We hit the ball well and we also ran the bases well. Defensively, we put ourselves in some bad spots at times, but we were able to get out of most of those situations. We only had one bad inning all night. We have a lot of things to improve on and they know that. We have some potential and I think we'll get a lot of our errors corrected. It's nice to have a win like this and still learn from it. We didn't have anybody playing the position they played last year, so we are learning as we go. Considering that, it was a nice day for us."
Baldwin will next play at 4:30 p.m. today against De Soto. The doubleheader will be played at Johnson County's 3&2 complex. On Tuesday, the Bulldogs are scheduled to host Ottawa at 4:30 p.m. at the new ball field complex in west Baldwin City.