BHS

baseball team falls to St. James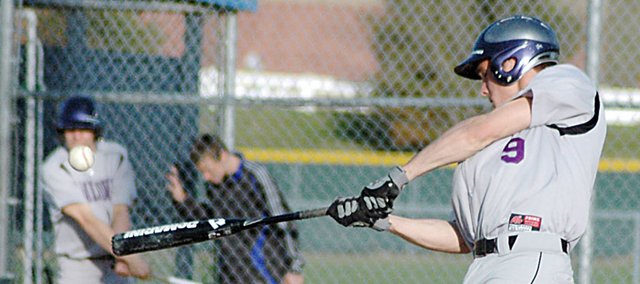 SHAWNEE — Brock Hartshorn said it was evident here Tuesday night that the Baldwin High School baseball team has had limited practices outside on a ball diamond.
The BHS baseball coach wasn't pleased with his team's performance in the season opener, but he wasn't entirely disappointed. His Bulldogs had only practiced outside twice before Tuesday's contest.
Baldwin did score early in the game and was tied 1-1 after two innings. However, Saint James Academy added 10 more runs during the next five innings to beat Baldwin 11-1.
"We came out and surprised ourselves early, because we haven't seen a live pitcher until tonight," Hartshorn said. "We hit the ball pretty well tonight and put the ball in play. We struck out only four times, which is positive.
"Things didn't go our way tonight," he said. "You can obviously tell we are a team without a field. Our fielding needs a lot of work. We saw some things we need to work on and we'll get better."
Saint James took a quick 1-0 lead in the top of the first inning. Baldwin came back and tied it. Junior Josh Hoffman led the Bulldogs' season off with a double. Fellow junior Will Von Bargen drove Hoffman home with an RBI single.
Baldwin continued to make contact with the pitches, but only managed four hits for the contest. Hoffman had two hits, while juniors Nate Growcock and Von Bargen each had one hit.
"I think the kids enjoyed themselves," Hartshorn said. "They don't like to lose. They've put a lot of pressure on themselves this season and said losing isn't acceptable. Today, they didn't accept it and I'm glad to see that. I think they had fun, but they want to win."
The Bulldogs were scheduled to play Tuesday's game at home on the new ball field complex west of Baldwin City. However, wet weather during the winter and earlier this month prevented the fields from being completed. Thus, the game was moved and the Bulldogs have been practicing in the BHS gymnasium for most of the month.
"It's hard to get better with our situation right now," Hartshorn said. "Our kids know they have a lot to improve upon and they know they didn't have the best of games. On a positive note, I thought we put the ball in play. We also saw some kids who are going to do good things for us on the field."
Despite the tough loss, Hartshorn believes his team, which consists of several players who started as freshman and sophomores, will improve and learn from Tuesday's defeat.
"This team is going to be really good down the stretch," he said. "We got some growing pains out of the way tonight and we'll get more out of the way this week. Once we get outside more and practice on a field, we'll be in better shape for the end of the season."
Baldwin will next play at 4:30 p.m. today against De Soto. The doubleheader will be played at Johnson County's 3&2 complex. On Tuesday, the Bulldogs are scheduled to host Ottawa at 4:30 p.m. at the new ball field complex west of Baldwin City.
"We're hopefully going to open on the new field Tuesday with Ottawa," Hartshorn said. "That is our goal. We hope to be out there Tuesday."