County's corn farmers harvesting bumper crop
Weather helps corn crop have 'incredible year'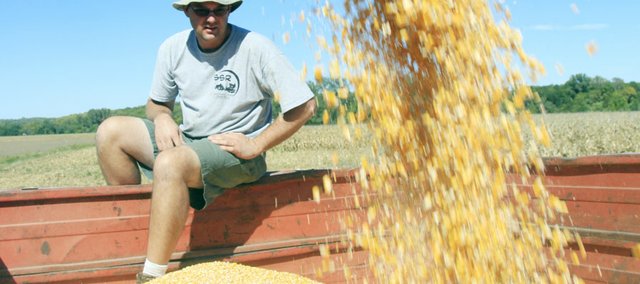 A summer of relatively cool and moist conditions is about to yield a major payoff for area corn farmers, hungry to reap a bumper crop from their stress-free plants.
Bill Wood, an ag agent and director of K-State Research and Extension in Douglas County, said that producers could expect to surpass results from the county's last "exceptional" crop: the 2004 harvest that averaged 141 bushels an acre.
"This is an incredible year here," Wood said Tuesday. "There will be some fields here in this county that will average over 200."
Thank Mother Nature for enabling the county to surpass its typical production, of 100 bushels an acre.
Wood figures he can count on one hand the number of times this year that corn plants have suffered through intense, 90-degree heat. And moisture was so prevalent that even growers with especially thirsty corn varieties needed to irrigate only once, maybe twice.
"I don't remember seeing such tall corn," said Wood, an agent for 29 years. "This year it just seems like every field down the road is a foot taller than it normally is, maybe a foot and a half."
Brian Yutzy is enjoying the results.
The owner of Hutchinson-based Southwest Seed Research started harvesting a 3.5-acre test field Tuesday morning east of Lawrence Municipal Airport, and the numbers generated through his research combine already were predicting success.
Among more than 200 seed hybrids being cut, he said, test weights were 55 to 61 pounds per bushel — a plus, considering that the benchmark for good corn is 56 pounds per bushel. He's expecting high yields, once he feeds such data into his computer.
"These are doing over 200 bushels," he said, from inside his research combine. "That's good corn — by far the best year I've had up here."
But too much of a good thing can have a downside, Wood cautioned. Such solid production is suppressing prices.
On Monday, Ottawa Cooperative Assn. locations were paying $3.01 per bushel, below the $4.50 farmers like to see.
Then again, Wood said, most farmers would prefer to sell a big crop at low prices than suffer through no crop amid high prices, Wood said.