Alleged assault at
BESIC

; eighth grader struck by car near

BJHS

is doing 'fine'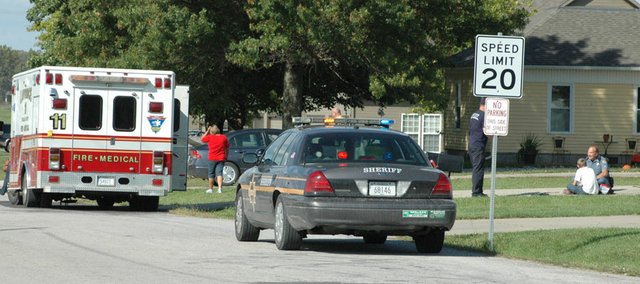 Two incidents involving Baldwin City schools happened within 20 minutes of each other Friday. One involved an alleged assault by a student on a teacher at Baldwin Elementary School Intermediate Center and the other was a minor car-pedestrian accident near Baldwin Junior High School.
Police were called at about 3:05 p.m. to BESIC. Principal Dan Wallsmith couldn't release details concerning the alleged assault and said Supt. Paul Dorathy would be the one to do that. Dorathy is out of town and was unaware of the incident, as of 4:35 p.m. Once he learned of the situation around 5:15 p.m., he released the following statement.
"Late Friday afternoon we had a student who became uncontrollable, so school staff decided to call for police assistance and we did with the Baldwin City Police and he left with his parents," said Dorathy.
At around 3:25 p.m., emergency responders were called to BJHS, where a car had struck an eighth-grade boy in the 300 block of Eisenhower. He was examined at the scene, but walked back to the junior high with Principal Connie Wright.
"I'm thankful today," said Wright. "We're doing fine. He looks fine. Mom's on the way to pick him up. It was just an accident."
The Signal will update this story when additional information is available.