Wildcats take advantage of Eagles' turnovers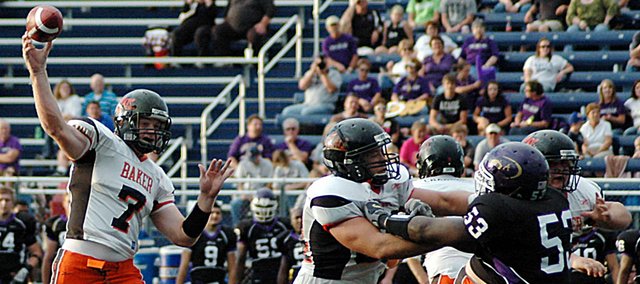 KANSAS CITY, Mo. — Saturday's Heart of America Athletic Conference matchup here between Baker University and Avila was sloppy, but one team earned its first victory of the season.
Losing four of their last five games dating back to last season, the Baker Wildcats needed a win. Their wish was granted with a 41-0 routing of the Avila Eagles.
"This feels great," senior quarterback Mack Brown said. "We hadn't won since second-to-last game last year, when we beat them on senior day. We ended a three-game losing streak tonight, so it feels great."
Baker's last three contests have been ugly for Wildcat fans. Baker was beaten soundly in all three games.
"I think it was a big night for us," coach Mike Grossner said. "We needed a win."
Although Baker stomped Avila and gained more than 300 yards of offense than the Eagles, the story of the game was turnovers. Baker fumbled five times and lost four.
Not to be outdone, Avila coughed the ball up six times and lost five. The Eagles also threw two interceptions for a grand total of seven turnovers.
"I think defensively, we played lights out," Grossner said. "We gave up just over 100 yards. Offensively, we moved the ball really well all night, but we just fumbled. You can't turn the ball over and expect to win games. The thing that helped us out was they were putting the ball on the ground, too."
After struggling to score points in their first two games, the Wildcats were quick to put them on the board Saturday. Brown found freshman Reggie Harris for a 29-yard touchdown pass less than five minutes into the contest.
"When you jump on a team right out of the gate, it really takes the pressure off of the defense," junior defensive end Andrew Patch said. "Everything was clicking tonight and it felt great to finally have that for once."
During the next six minutes, the two teams exchanged possessions. Baker lost two fumbles inside the Eagles' 5-yard line. The Eagles gave the ball back both times with fumbles inside their 15-yard line.
"Our defense gave us great field position all night," Grossner said. "They also gave us the ball back after we fumbled inside Avila's 10-yard line a couple of times."
Baker capitalized on the second Avila fumble. Senior Richie Bryant scored the first of his two touchdowns on a 1-yard run. Bryant carried the ball 21 times for 244 yards Saturday.
Bryant fumbled the ball on the Wildcats' next possession. He caught a short pass and sprinted down the sideline for a huge gain, but fumbled as he was tackled. A Baker teammate fell on the ball to keep the drive going. It was Bryant's first fumble in nearly two years.
The returning HAAC offensive player of the year scored his second touchdown to cap off the drive. He rushed in from 3 yards out to give Baker a 21-0 lead at the start of the second quarter.
"We had great balance tonight offensively," Brown said. "If our line can run block and pass block, we can't be stopped."
Baker added a field goal before halftime after fumbling twice during the second quarter. Although the offense turned the ball over four times, it possessed the ball long enough to rest the defensive players.
"The more time the offense is out there, the more time we can rest," Patch said. "So when we go out there, we're fresh. We're hungry, too, when we're on the sideline."
The Wildcats scored two more touchdowns in the second half. The first was a 13-yard pass from Brown to senior Alfonso Nino. Brown threw his third touchdown pass of the day when he hooked up with sophomore Evan Branscum on a 7-yard connection.
"Our defense played well all game," Brown said. "Our offense played well in the second half. Without the turnovers, it would have been a really clean game for us. We got things turned around at halftime to help our defense out."
The Wildcats recovered two fumbles and intercepted one pass in the second half to set up those scores. Patch was proud of his fellow defensive players.
"Defensively, we flew around the field and kept them from scoring," Patch said. "That was really big for us. We were able to put points on the board offensively, which helps our pride. It's nice to come out and whip someone else for a change."
Baker senior Derek Doerfler kicked two field goals Saturday. His first kick was from 47 yards, with his second even longer, 57 yards.
"He had a big game," Grossner said. "His leg is definitely back and alive. This will help his confidence."
The Wildcats have their bye week this Saturday. Patch said the team will still be working hard until their next game.
"We have a bye week, but we're not going to take it lightly," he said. "We still have a losing record. It will be nice to heal up, but we're going to get after it."
Their next game is homecoming Oct. 2 against Culver-Stockton.
"We didn't do well at home in front of a huge crowd," Grossner said. "We feel like we want to redeem ourselves and play well. We want to get back into this conference race."