School district enrollment down, at-risk students up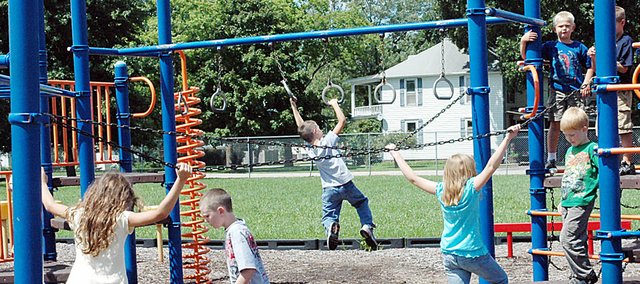 There was good news and bad news Monday with the Baldwin School District in regards to the 2009-2010 school year.
Monday was the official day for state schools to give final enrollment numbers. Those figures will be used for the annual budgets, so an increase or decrease could affect schools' funding.
The first of the bad news was the district's enrollment dropped from a year ago. Baldwin's head count was 1,426 on Monday, which was a decrease from 1,444 a year ago.
Baldwin's Full-Time Equivalent is at 1,341.5. That's also a decrease from last year, which was 1,361.9. The FTE is the number used for state funding.
"We're down a bit this year," Supt. Paul Dorathy said. "Last year we had a very large senior class that graduated. We had a pretty good sized kindergarten class that moved to first grade."
The other bad news Monday was something many school districts around the state are facing. Baldwin's number of students receiving free or reduced lunches has increased from last year.
There are 372 students receiving free or reduced lunches this year, which is 26 percent of the district's enrollment. A year ago, that number was 281 (19 percent of the enrollment).
"Both of those are up very significantly," Dorathy said. "There are several reasons why those are up. First, the communication we had with patrons and how we dealt with it at every building in the district. We had a lot more applications this year, let alone the ones that qualified. Also, we've got a lot of families out there whose financial status has changed. That's affected a lot of our patrons."
In comparison, the Tonganoxie School District has 600 (31 percent of district enrollment) students on free and reduced lunches this year. That's an increase from 485 (26 percent of district enrollment) a year ago.
Although those numbers are final for the district's state funding, Dorathy said the district will still accept applications from families.
"That's the count for our at-risk funding for the state," Dorathy said. "We will still take applications later if people have things change financially. They can always apply later."
Monday's news wasn't all bad for the school district. Despite the declining enrollment, the district won't lose any state funding for the 2009-2010 school year.
Districts have three options for state funding enrollment numbers. They may use this year's count, last year's count or an average of the three previous years, which would include this year.
"That law is out there to help districts with declining enrollment," Dorathy said. "So we can use that to offset it for a year. It also gives us a year to plan if we go down again next year. It just depends whichever number comes out best for us, then we would use that one.
"Right now, the best thing to our advantage is taking last year's enrollment," he said. "We will plug that number into the budget formula to figure out what our budget will be this year. We'll continue to use the 1,361.9 from last year."
The other good news regards the free and reduced lunches. Although an increase in that number isn't good for families, it does help the district as it will receive additional dollars.
"The state does give us more money for at-risk students so that we may help those students," Dorathy said. "They give us a little more money to support those programs."