Home sweet home for
BHS

cross country teams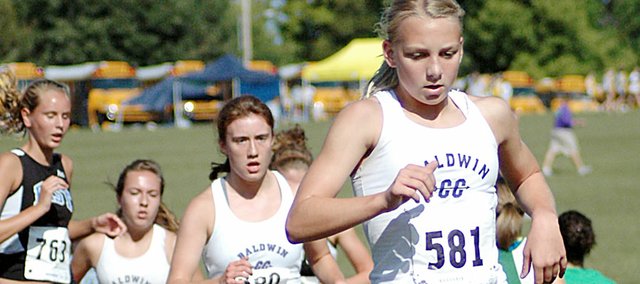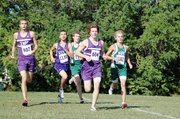 Mike Spielman's cross country teams had a sweet homecoming Saturday.
His Baldwin High School Bulldogs took advantage of their home course. Both teams won the Baldwin Invitational titles and many runners set new personal-best times.
"The kids did an awesome job today," Spielman said. "It was really exciting on the home course. We had tons of parents, family, friends and community members out here. Our kids did a great job of responding to that as they ran really well.
"Plus, the course is just in great shape," he said. "It hadn't rained in a week, so it's nice and firm. This was one of our down mileage weeks, so they felt really fresh today."
The BHS girls led the way as they cruised to victory. The Bulldogs scored 30 points, which beat second place Shawnee Mission East by 40 points. They have won all three of their meets this fall.
"I think we all ran really well," sophomore Elizabeth Sigvaldson said. "I was really nervous, because there were a lot of people out here watching us. We all pushed ourselves and came together to run awesome."
Baldwin High's boys' squad tied Free State for first place with 56 points. Baldwin junior Kyle Garcia broke the tie. He was Baldwin's sixth runner and since Free State only ran five boys, BHS won the title.
"We won on the sixth runner, because they all did a great job of getting in there and running well," Spielman said. "When you tie, every single person that passes that one person makes the difference."
Baldwin had four runners nearly win the pair of varsity races Saturday. However, the Bulldogs came away with second and third-place finishes in both races.
In the girls' 4-kilometer race, BHS freshmen Sienna Durr and Katelyn Barnes took the lead up a long hill after the midway point. They battled Topeka-Hayden's Kristin Strecker during the next mile.
The Hayden senior separated herself from the freshmen near the end. Durr finished second in a time of 15:48.97, which was nine seconds behind Strecker. Barnes was just one second behind Durr in third place.
"They did a great job," Spielman said. "The Hayden girl got second at Wamego last week and they went out and challenged her. They made her work hard. By the end of the year, they should be right with her."
On the boys' side, it was a five-person competition for nearly all of the 5-kilometer race. Baldwin junior Tony Weiss and sophomore Brian Wright battled two Free State runners and one from Topeka West.
Free State's Logan Sloan pulled away from the pack during the final 800 meters. Weiss and Wright finished second and third.
"It was a great race to watch, because we had two, Free State had two and there was a Topeka West guy in there," said Spielman. "Those five kids were running together the entire race until the last half mile."
Baldwin's next four runners placed in the top 30. Sophomore Tosh Mihesuah and junior Joey LaBuda finished 14th and 15th. Junior Carson Barnes edged an opponent out at the finish line to place 22nd.
"We both ran 18 seconds faster than last week," LaBuda said. "This was my fastest race ever. I was surprised I ran so fast."
Junior Kyle Garcia finished right behind Free State's fifth runner in 28th place. Rounding out the varsity was senior Brandon Kraus. He placed 47th.
"If Carson doesn't beat that guy, then we get second as a team," Spielman said. "It's not until the end that you figure out all of those things matter. Kyle looked really good today. He's got some ability, so if we can get him to be more consistent in races, then he's going to have a big career for us."
LaBuda said the home course helped the Bulldogs Saturday.
"We run hills here every Monday and we're here all of the time, so that really helps," LaBuda said. "We had a lot of friends and family members here, which helped, too."
The BHS girls all finished in the top 20 at the meet. Seniors Connor Twombly and Julie Hill placed fifth and ninth. Sigvaldson was the fifth runner, as she came in 13th place.
"Their one through five split just keeps getting better," Spielman said. "I think it was like 33 seconds today. That's just amazing to have five girls that close together and high in the standings."
The other two varsity runners were junior Heather Karlin and sophomore Abi Hartzell. They placed 16th and 19th. Several of the Bulldogs ran personal-best times on Saturday.
"Carol (Whaley) and the other JV girls said they ran well and PRed earlier, so it sounded like we were going to run fast," Sigvaldson said. "I was impressed that we did better than what we thought we would."
Sophomore Carol Whaley remained perfect on the season as she won her third consecutive junior varsity girls' race. Whaley won by 21 seconds as she ran 16:40.36.
Spielman said the varsity girls are running well together, but Whaley's performances are making them run faster or they will be bumped to JV at the next meet.
"They all packed up and ran well together," Spielman said. "Then Carol is on JV and running unbelievable times, but the varsity girls keep holding her back. That's going to make us really good as everybody is fighting for those spots."
Baldwin will compete at the Rim Rock Invitational, which takes place at Rim Rock Farm north of Lawrence, Saturday. The races begin at 8:30 a.m., but Baldwin's first race will be at 9 a.m. The varsity boys compete at 11:15 a.m. with the girls starting at 12:45 p.m.
BHS will also host another meet Oct. 2 at the Baldwin City Municipal Golf Course.
"We're going to face big schools for the next two weeks," Spielman said. "That will be good for us to face them, so when we drop down to league, regional and state, we will be ready to roll."