Art Walk finale draws large crowd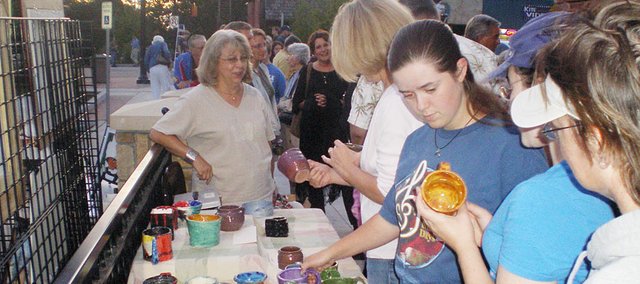 Friday's Baldwin Community Arts Council Art Walk finale was a success, especially considering last year's version had to be moved inside the lumberyard because of threatening weather.
There was none of that this time around.
"Our final Art Walk of the season, 'Cuppa Java,' ended on a successful note," said Tom Wilson, who was in charge of the event. "With well over 100 mugs to choose from, homemade desserts and coffee provided by the Pink Lady, a fine community event unfolded."
Cuppa Java has become one of the most popular of the Art Walks, which begin in the spring and are the third Friday of each month. The coffee mugs are handmade by artists, just like the desserts that go with the coffee.
And, of course, there were the usual Art Walk attractions as well, such as music and lots of art.
"Artists and patrons enjoyed another beautiful evening in downtown Baldwin City," said Wilson. "Jake and Casey Wright received the $50 art purchase award. Artist Emily Dixon earned the People's Choice Award for the evening and $50 as well."