Cross country teams win home meet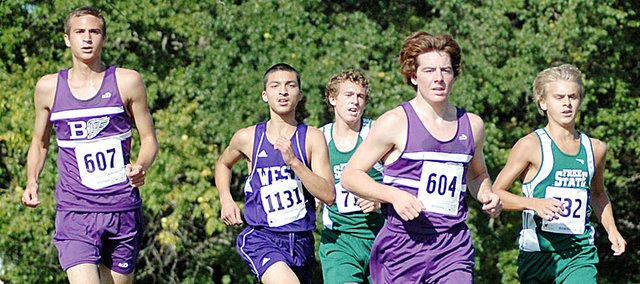 Baldwin High School's cross country teams took advantage of their home course Saturday as both teams won team titles and many runners set new personal-best times.
The BHS girls led the way with an easy victory. The Bulldogs scored 30 points, which beat second place Shawnee Mission East by 40 points.
Baldwin High's boys' squad tied Free State for first with 56 points. Baldwin junior Kyle Garcia broke the tie. He was Baldwin's sixth runner and since Free State only ran five boys, BHS won the title.
"The kids did an awesome job today," coach Mike Spielman said. "It was really exciting on the home course. We had tons of parents, family, friends and community members out here. Our kids did a great job of responding to that as they ran really well."
The Bulldogs didn't win any varsity races, but had runners place second and third in each race. Junior Tony Weiss (2nd) and sophomore Brian Wright (3rd) were Baldwin's top finishers in the boys' race. Sophomore Tosh Mihesuah (14th) and junior Joey LaBuda (15th) placed in the top 15.
The BHS girls were led by freshmen Sienna Durr (2nd) and Kaitlyn Barnes (3rd). Senior Connor Twombly (5th) and Julie Hill (9th) also placed in the top 10 for Baldwin.
BHS sophomore Carol Whaley remained perfect on the season as she won her third consecutive junior varsity girls' race. Whaley won by 21 seconds as she ran 16:40.36.
Baldwin will compete at the Rim Rock Invitational, which takes place at Rim Rock Farm north of Lawrence, next Saturday.
There will be a full story with photos in Thursday's Signal.