School board to decide on attendance boundary line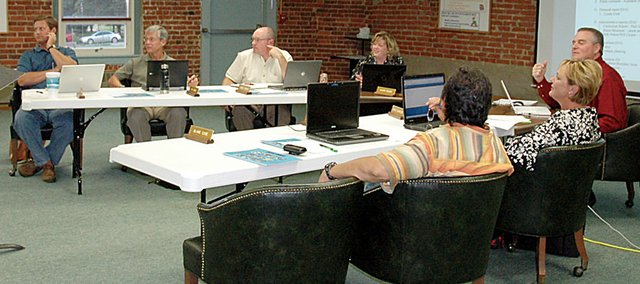 Elementary attendance boundaries were once again discussed at the Baldwin School Board meeting, but this time it would only affect a few families.
U.S. Highway 59 is the primary boundary line between Marion Springs Elementary School and the Baldwin City elementary schools. However, there is a small section that juts east of the highway, just south of U.S. Highway 56, that is part of the MSES boundary.
Baldwin School District buses are picking up students east of U.S. 56 and transporting them west to MSES. Supt. Paul Dorathy said the main problems are safety and access to U.S. 59, which is under construction as the new highway is being built east of the existing one.
"I think it's a safety issue, especially during this construction phase," Dorathy said. "I would like our buses crossing the highway as few times as possible to keep our kids safe."
At the meeting Monday night, Dorathy said there are three families who live in that small area near the Baldwin Junction Greenhouse. He said two of those families send their children into town to attend elementary school.
Dorathy said changing the boundary line to U.S. 59, might affect the other family, but that depends on what the school board decides.
"Our challenge is going to be 59 highway and it may be a moot point, because we may not have much of an opportunity to cross 59," he said. "Even when it's completed, there is going to be restricted access to it, so you won't be able to drive up to it from your driveway anymore. If you're trying to pick up people on either side of the road and get back across the highway, that's going to be a challenge. That's the whole reason for reconsidering that rectangle of property."
Dorathy said the school board might change the line, but he wasn't sure when it might become affective.
"I think that's up for discussion," he said. "I won't say what the board might do until I know more about who lives in that area. I think the options could be doing it now and start transporting the kids into town, holding off and not doing it until the end of the school year or not changing the line at all. There are options and I think it's something we have to look at as a district."
His suggestion to the board is to contact any more residents in that area to see if they have children that wanted to attend MSES. Then he would bring the information back to the board at the October meeting.
"I would support that, Paul," said Alison Bauer, School Board President. "I would also like you to keep in mind that we may need to change some areas near 59 highway in the future."