Pioneers shut down Wildcats' home opener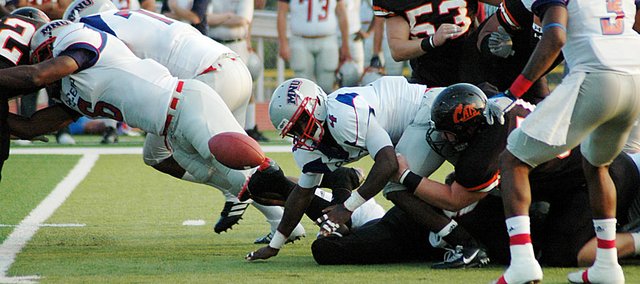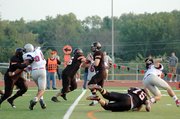 Personal fouls and illegal hits on Mack Brown doomed the Baker University Wildcats in their home opener here Saturday.
Shutting down the MidAmerica Nazarene offense was also a problem as the Wildcats (0-2) were beaten 45-13. The No. 12 Wildcats lost to No. 16 Missouri Valley a week ago and fell to No. 8 MidAmerica this week.
"Momentum is big right now," coach Mike Grossner said Saturday. "Psyche is big, too. We didn't make the plays early and we let a good football team start rolling. For two weeks, we have not made enough plays to win football games."
The Wildcats struggles began early Saturday, as they were called for three personal foul penalties in the first quarter. Both teams were called for six personal fouls combined in the game. Two of those penalties stopped Wilcat offensive drives.
"We had two drives going and got personal fouls," Grossner said. "WE're literally shooting ourselves in the foot. Until we stop doing that, we're not going to be a good football team."
MidAmerica hit Baker quarterback Brown late twice early in the contest. Brown suffered and ankle injury on one of the hits, but remained in the game. However, Grossner said Brown's mobility limited the Wildcats' offense.
"Mack was hurt all night," Grossner said. "We had to play him. I kept talking to him and he said he could go. We couldn't get under center and hand the football off, because Mack couldn't get there. That puts us at a huge disadvantage offensively. We also had a big concern about getting him hurt."
After the early late hits, both teams settled down. Baker's offense continued to struggle, while the Pioneers began rolling. They scored four touchdowns in the second quarter, one of which was a 90-yard punt return.
"That was another knockout play," Grossner said of the punt return.
Baker missed two 50-plus yard field goals, but connected on a third late in the half. Baker also turned the ball over twice in the first half.
Baker's only touchdown of the night came after a Colton Miller interception deep in Pioneers' territory. Wildcats' running back Richie Bryant rushed in from 6 yards out to score.
Baker will try to pick up its first win Saturday as it travels to Kansas City, Mo. to play Avila.