Jorgensen leads
BHS

tennis squad at Marysville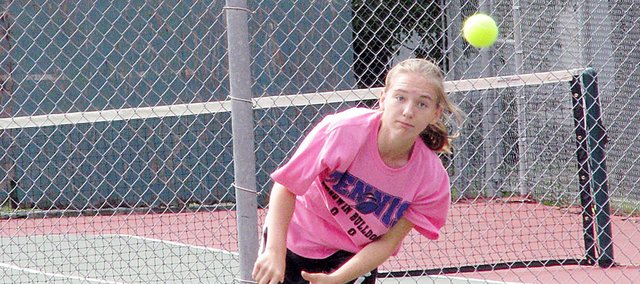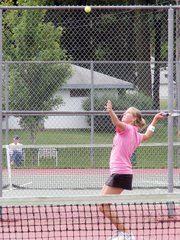 Every year, the Baldwin High School girls' tennis squad takes a lengthy drive to Marysville to compete.
This year was no exception for the Bulldogs. The varsity team returned home Saturday with a third-place finish and a trio of fourth places.
"Overall, we struggled today," coach Justin Hoffman said. "We did not execute our shots the way we have been in practice and in other matches. I saw flashes of the high level of play the girls are capable of, but we just did not have the consistency today that we needed."
Leading the way for Baldwin was No. 2 singles player freshman Kaitlin Jorgensen. She finished third in the tournament as she went 2-2 at her first varsity event.
Jorgensen began the day with an 8-2 loss to St. James Academy's Julia Reinhardt. Then she rallied with an 8-1 win before losing 8-1 to her next opponent.
Her final match was a rematch against Reinhardt. This time Jorgensen won 8-1 to finish third.
"Kaitlin got her first taste of high school varsity tennis and responded fairly well," Hoffman said. "She got the chance to play the St. James' girl twice and played very well the second time."
Also playing singles was junior Kara Protasio, who played No. 1 singles for the Bulldogs. Protasio went 1-3 on the day, with her only win over Topeka West's Alexus Renyer.
Both BHS doubles teams placed fourth Saturday. Junior Michaela Krysztof and sophomore Kara Hoegerl played No. 1 doubles, while sophomores Hayley Schwartz and Alison Berg played No. 2 doubles for BHS.
Both doubles teams went 1-3 at the tournament, also beating their Topeka West opponent for the lone victory.
"In most of our matches, it was our mistakes that cost us rather than being beaten by our opponents," Hoffman said. "We will take what we have learned from our play today and practice hard to be ready as we move through the season."
The Bulldogs hosted the Baldwin Invitational Tournament on Wednesday. Those results will be online at baldwincity.com. The Bulldogs next play at Smoky Valley Saturday.