Fumble recovery extends Bulldogs' winning streak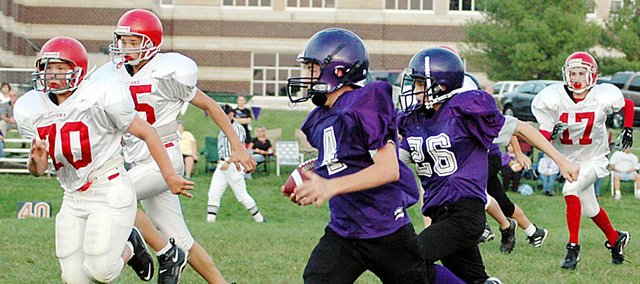 Tucker Clark might have single handedly saved a winning streak dating back to 2006.
Clark recovered a fumble at the 2-yard line with 1:41 remaining in Tuesday's contest between the Baldwin Junior High School and Ottawa eighth grade football teams. The Bulldogs ran the clock out with their offense to win 14-8.
"That was a close one tonight," coach Bench Currie said. "That was closer than we would have liked it to have been. We had some things fall our way, especially that fumble late in the game."
Ottawa was driving down the field late in the game after taking possession near midfield. On first down at the 12-yard line, Ottawa ran the ball for a 7-yard gain, but the ball came loose.
After the pile of players was uncovered, Clark was holding the ball for the Bulldogs. He preserved the game as BJHS went to 2-0 on the season.
"Last year, we went into overtime against them," BJHS eighth grader Chad Berg said. "This year, we knew they were good. We didn't really play our best. We had too many penalties. We got the win and kept our streak going."
The Bulldogs' streak dates back to when they went undefeated as fifth graders in youth football. They went unbeaten the next season in youth football, too.
As seventh graders at BJHS, the Bulldogs' squad went 7-0 on the season, playing Frontier League opponents.
Although Baldwin won the game, Currie said the team made many mistakes. Baldwin had several long plays, including one touchdown, called back because of penalties.
"Our goal is to improve from week to week," Currie said. "From last week to this week, I think we improved in a few areas, but we're still not where I think we can be as a team."
Baldwin jumped on top first Tuesday. Berg carried the ball for a 1-yard touchdown run. Skyler Shockley scored the two-point conversion to give the Bulldogs an 8-0 lead early in the second quarter.
Ottawa tied the game during the middle of the second quarter. However, the Bulldogs answered with a late drive. Berg rushed for two long runs to keep the drive alive.
With less than a minute remaining, Berg rolled right out of the pocket and tossed a pass to the end zone. An Ottawa defender ran into Cornell Brown, but Brown made an acrobatic catch to score the touchdown.
"One of the linemen stepped on my foot before I threw it," Berg said. "I just threw it up, because I knew Cornell would catch it. He made a great catch."
Currie said that play was just one of several that his players are capable of making.
"That was a good concentration catch," he said. "Some of these kids have great skills and they show it when they have the chance. We ran Chad a lot on sweeps, because they were loading the box on us."
In the seventh grade game, Baldwin lost 12-0. Ottawa led 6-0 for most of the game, but scored a second touchdown in the final minute of contest.
"We felt like we had some chances if we could get a drive going, because they kept turning the ball over to us," coach Jim Hartman said. "We had our chances today."
Hartman also said the Bulldogs' offense struggled against Ottawa's defense Tuesday.
"We just couldn't get any offense going at all," Hartman said. "Their defense was pretty tough on us all game. They were blitzing linebackers and we couldn't stop them. That's just something we have to work on now."
Both BJHS teams travel to Spring Hill to play next. The seventh grade game begins at 4 p.m. Tuesday with the eighth grade to follow.