Bulldogs go winless at home volleyball tournament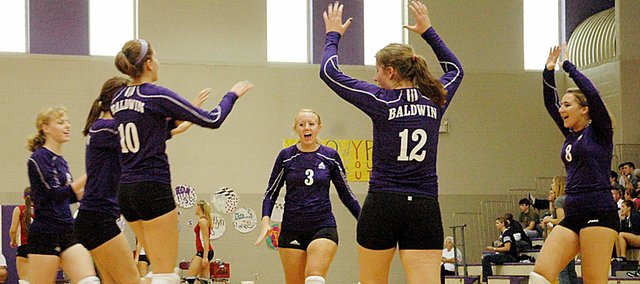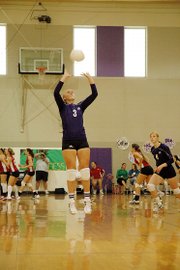 Expectations preceding Saturday's home tournament didn't roll over into results for the Baldwin High School volleyball squad.
The Bulldogs dropped all four of their matches in pool play, which eliminated them from the bracket round. It was first time they have gone winless in the Baldwin Invitational Tournament.
"We can't dwell on it," coach Kelly Brown said. "We have to move on and try to stay positive."
Baldwin began the day playing the two toughest teams in their pool — Gardner-Edgerton and Mill Valley. The Jaguars went on to place runner-up in the tournament, while Gardner-Edgerton finished third.
The Bulldogs were easily defeated in both matches. Gardner-Edgerton beat the Bulldogs 25-15 and 25-18. Mill Valley had an even easier time as it won 25-12 and 25-7.
"Starting out that tough on Saturday kind of shook them up for the day," Brown said. "We started out with good teams and we couldn't get past some of mental errors that were made.
"I think the girls knew that one of the teams we had to beat to get in the top four was Gardner," she said. "It was just not a good way to start off the day. They wanted to be in the championship bracket, but after those two losses, it was like they gave up and could have cared less about even trying to go for that fifth place spot."
After taking a break for more than an hour, the Bulldogs took the floor against Osawatomie. They cruised to victory in the first game 25-17. However, the Trojans won the second game 25-15. In the third and decisive game, Osawatomie once won with ease 25-17.
Baldwin's last chance to win a match and end pool play in a three-way tie came against Wellsville. The Eagles controlled the match, winning in two games, 25-16 and 25-17.
"This was my first year here that we haven't beaten Osawatomie, so that was a surprise for me," Brown said. "Then not making it out of pool play is not what these girls had in mind coming into this tournament. It was very heart breaking for them."
On Sept. 9, the Bulldogs lost a five-game match at Tonganoxie.
"The girls played absolutely wonderful," coach Brown said "We made a lot of serve-receive errors and that's something we're going to have to work on. I think we are definitely improving, but we have to get our offense going more often."
Baldwin won the first and third games, 25-22 and 25-20. However, the Chieftains controlled the second and fourth games, 25-19 and 25-20.
The match came down to a fifth game. Tonganoxie took a 5-0 lead in a game that's only played to 15 points. Baldwin tied it up behind the serving of Taylor Brown.
Then the Chieftains took another five-point lead at 11-6, but Baldwin rallied to make it 11-10. However, that's all Baldwin would score as the Chieftains won 15-10 to take the seesaw match.
"We're still fighting and talking, especially during those long points," coach Brown said. "It's still a learning process. We're going to get to where we need to be in October, when we need to play like that."
The Bulldogs will play tonight at De Soto and then at Gardner-Edgerton on Tuesday. Both matches should begin around 7 p.m.
"If we can turn this around and stay positive, we'll have good things happen to us," coach Brown said. "I know the girls are hungry to win. It's a process they are going through and we have some things to work on before we get to where we want to be."