BJHS

seventh graders win Eudora tournament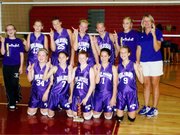 Baldwin Junior High School's seventh grade varsity volleyball team went undefeated en route to winning the Eudora Tournament championship Saturday.
The Bulldogs won all four of their matches at the tournament. They beat Tonganoxie 25-4, 25-13; Piper 25-7, 22-25, 15-5 and Osawatomie 25-5, 25-14. Then they reached the championship match against Wellsville.
Baldwin dominated the Eagles in the title match, winning 25-10, 25-8 to win the championship.
Also on Saturday, the BJHS eighth grade junior varsity team played a tournament in Tonganoxie. The Bulldogs placed fifth as a team.
Baldwin lost to Piper, 25-22 and 25-18, and Eudora, 25-24 and 25-16. BJHS defeated Osawatomie 25-24, 19-25, 15-7. In the fifth-place match, BJHS beat Mill Creek 25-22, 18-25, 15-13.
"I have been so proud of all of our student athletes so far this season," BJHS coach Brenda Shawley said. "We have improved our serving and passing every single match and that's exciting to witness. We only have four weeks left in the season, so I'm anticipating that our best performances are yet to come."
On Monday, all four BJHS volleyball teams played Eudora. The eighth grade teams played at home, while seventh grade traveled to Eudora.
The eighth grade varsity scores from the night were 25-11, 25-24; 25-12, 25-23. That team is now 6-0. The seventh grade varsity improved its record to 10-0, by winning 25-7, 25-11; 25-12, 25-3.
The seventh grade JV team is 5-1, as it won 25-23, 23-25, 16-14; 25-10, 25-16. The eighth grade JV team is 7-3 after it won 25-10, 25-18; 19-25, 25-14, 25-18.
The next action for all teams next week is Sept. 24 versus Pioneer Ridge. The eighth graders play at home and seventh graders are on the road.