BHS

girls' cross country cruises to second straight win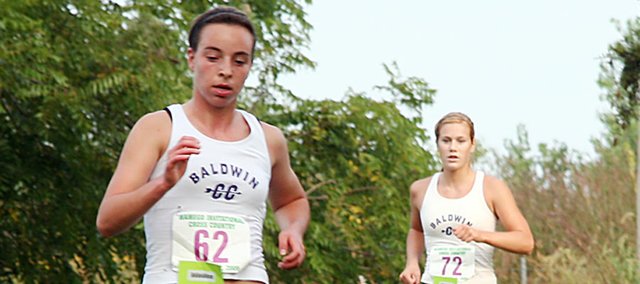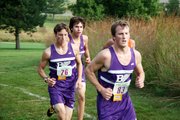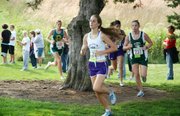 On Saturday, the Baldwin High School boys' and girls' cross country teams competed at the Wamego Invitational.
The girls' squad finished first with 67 points and the boys placed fourth with 104 points behind Mulvane, Wamego and De Soto. It was the second straight meet the BHS girls have won this season.
"We just want to get better each week and we want to be competing at the races," coach Mike Spielman said.
Once again freshmen Kaitlyn Barnes and Sienna Durr led the girls' team. Barnes placed seventh and Durr placed tenth in the 4-kilometer race.
Following them were seniors Julie Hill and Connor Twombly. Hill was 16th, while Twombly placed 17th for the Bulldogs.
"Coming into the season I wasn't expecting to be up with the lead runners," Barnes said. "I have definitely surprised myself."
On the boys' side, junior Tony Weiss and sophomore Brian Wright led the pack by placing fourth and sixth. The two Bulldogs battled many of the top runners in the state Saturday. They will run on the same course at the Class 4A state meet Oct. 31.
"The weather was beautiful and we all ran really well," Wright said. "I'm very proud of our team."
Juniors Joey LaBuda and Carson Barnes were the next Bulldogs to finish. Sophomore Tosh Mihesuah was the fifth BHS runner, as he battled illness Saturday.
With the second race under their belts and four more to go before the final three, which are league, regional and state, the athletes still have many goals to accomplish.
"We are making really good progress," Weiss said. "I hope we keep improving our times and I hope our 1-7 split keeps decreasing."
The Bulldogs will be hosting Baldwin Invitational at 9 a.m. Saturday at the Baldwin City Municipal Golf Course. The junior varsity races will be first, followed by the varsity and then C-team races. The boys will run first in each division, as each race will start in 30-minute increments.