Convocation opens new year for Baker University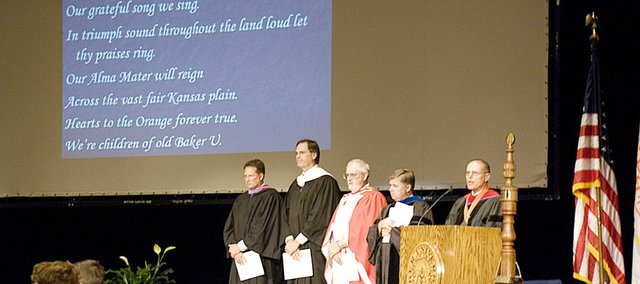 Sustainability is the key phrase at Baker University and that was reflected during the opening convocation Tuesday morning in Rice Auditorium.
The university has many efforts underway this year with the sustainability theme and faculty, students and staff are all involved.
"We should live in the present in ways that improve the future," said Baker President Pat Long during her convocation remarks, adding that the university strives to do that with its students, too. "This university has continued to build up and sustain our outstanding learning environment for our students."
While education and the environment are at the forefront of the sustainability efforts, the Rev. Ira DeSpain, campus minister, took it to another level with a 24-hour prayer vigil ahead of the convocation to bring the spiritual world into the mix.
"Ira believes prayer is a tool of sustainability through trying times," said Steve Rottinghaus, director of public relations. "Ira recruited people to be in prayer for Baker University, faculty, staff, administrators and students. He recruited people to sign up to come to the chapel for 30-minute segments. He had suggested scriptures and prayer topics for meditation printed out.
"Bishop Scott Jones of the United Methodist Church in Kansas agreed to pray for 30 minutes and forwarded the invitation to all United Methodist pastors in Kansas," said Rottinghaus. "Ira even had a response from a missionary in Haiti."
Long commended DeSpain for those efforts.
"It was a wonderful experience," said Long. "Our university was grounded in faith and continues to be grounded in faith."
Other speakers spoke about the "green" initiatives of sustainability. Steve Troester of PGAV Architects is developing plans for the refurbishing of Mulvane Science Hall.
"I have worked with Baker University for a long time," said Troester. "Baker University has embraced the challenge of preserving the environment."
Student Senate President Patti Greenbaum spoke about student efforts that have helped organize a trayless cafeteria, less paper being used in the annual campus planner and recycling on campus.
"Our students do have a big impact on how our campus works," said Greenbaum.
Roger Boyd, a longtime member of the Baker faculty who is now director of natural areas, noted that Baker has been recycling since 1989. He said in 2008, the university recycled 133.7 tons of paper, cardboard, plastic, tin and aluminum from 60 locations on campus where items can be recycled.
"It takes a commitment, a little organization and a little time," said Boyd.