Nottingham places sixth in world horse show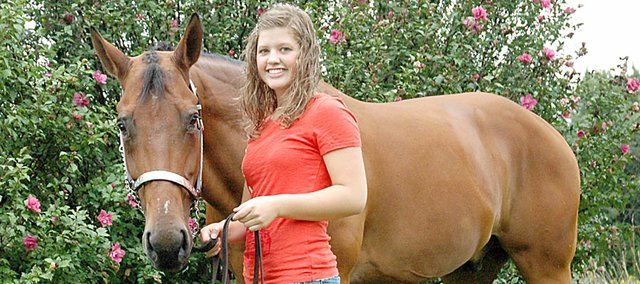 For Paris Nottingham, her fourth time was her lucky charm.
In August, the Baldwin High School sophomore participated in her fourth consecutive American Quarter Horse Youth World Championship show in Oklahoma City. It turned out to be her best show as she brought home lots of hardware.
Nottingham earned her first top 10 finish of any event. She placed sixth out of 167 competitors in the Trail event at the AQHY World Show.
"I was so excited," Nottingham said. "It's hard to explain how I felt. It's something I worked for and it didn't just happen, obviously, because it took me four years to place.
"Placing in the top 10 at the world show is huge," she said. "It's something everyone works for. A lot of kids will go through their whole showing career and never make top 10. So to place sixth as a 15 year old, I'm pretty excited."
Nottingham's parents were proud of her success.
"It was very exciting. It was very special, because her grandparents were there and David and I were there," said Jeanne, her mother. "It's one of those once in a lifetime things, but she said, 'Oh no, Mom, I'm going to do it again.' She probably will. We're very proud. It's quite an accomplishment.
"Paris works very hard at it," she said of her daughter. "She puts in a lot of hours. It's a fun hobby, but it's very labor intensive. It's sometimes very hot when she's practicing, but other times it's very cold."
Placing sixth earned Nottingham a lot of prizes. Her largest one was a four-foot long ribbon that has her division and place on it, along with a bronze medallion in the middle. The other prizes included an embroidered horse blanket, top-10 patch for a jacket and a belt buckle.
What is trail?
During her four years at the AQHY World Championship show, Nottingham has competed in several events. Her other shows include showmanship, western pleasure and hunt seat equitation.
However, two years ago, she found a new favorite event. Trail requires the rider and horse to complete an obstacle-like course between, around and over poles. The poles are set different distance apart throughout the course, which takes an average of three minutes to complete.
Riders are judged on how well they complete the course, based on fluidness of ride, whether they touched the poles and other requirements.
"You also get judged on how fluent your show is, so you try not to stop," Nottingham said. "You want to make it fluid and look like the horse is doing everything. You want to sit there and make it look like the horse is doing its job and it's really easy."
World show time
Riders must qualify for the world show to be eligible to compete. They have to gain a required number of points at shows during the previous year to qualify for the August world show. Nottingham qualified about three weeks before the deadline.
The preliminary round for the world show Trail event was on the Wednesday morning of the show week. All of the 167 competitors performed their show for the judges, but only the top 15 scores moved on to the finals two days later.
"It's very nerve racking, especially in the prelims, where there were 167 people in it," said Jeanne. "She was 50th to go and sometimes the judges are kind of conservative with their scores early on in the show. We thought it was a pretty good score, but as the day went on, we were really biting our nails."
Nottingham scored a 226 in the preliminary round. In past years, a 217 score has been good enough to advance, but this year three riders scored 226, which was just enough to quality.
She said her preliminary run was clean, which gave her plenty of opportunities for additional points. She gave the credit to her horse.
"I did really well in the prelims," Nottingham said. "The mare (Gala) I showed really enjoys the trail. I think it's her favorite class to show. She tries really hard and she makes it really easy. Like most things, it depends a lot on luck on how things go for you that day. Some kids click with their horses some days and others don't on that day."
During the next two days, Nottingham practiced at odd hours of the night. At the show, she would ride her horse at 10 or 11 p.m., but other days it would be at 3 or 4 a.m.
Then it came time for her first time in the Trail finals. That's when the butterflies began stirring in her stomach.
"It's a big show, so I always get nervous," Nottingham said. "I don't really get nervous when I'm practicing. Instead, it hits right before I'm about to show. I'm usually pretty calm up until the day of the show."
Nottingham was the sixth rider to participate in the finals. Each rider's score was announced and posted for everyone to see. As the event went along, she began to realize her dreams were coming true.
"As soon as I realized I had made top 10, I was so excited," Nottingham said. "From there on out, I didn't care what place I got, because I had already made top 10. I kept rising in the standings, so it kept getting better. It was very exciting."
Her run was once again clean, but some of the judges weren't impressed with her ride.
"It's kind of hard, because it's all on the judges opinion," she said. "When you don't touch anything, it's their opinion of whether or not it was fluid or pretty. On my scores, some judges gave me lots of plusses and others didn't give me any at all. That's just how it goes."
Despite the mixed results from the judges, Nottingham placed sixth. Now, she is eyeing next year's world show, hoping to break the top-five barrier.
"I definitely want to go back next year and get my name called again," Nottingham said. "I always want to improve from year to year. I've moved up each year and this year I was good enough to get into the top 10. My goal is top five next year, definitely."