Freshmen impress at opening meet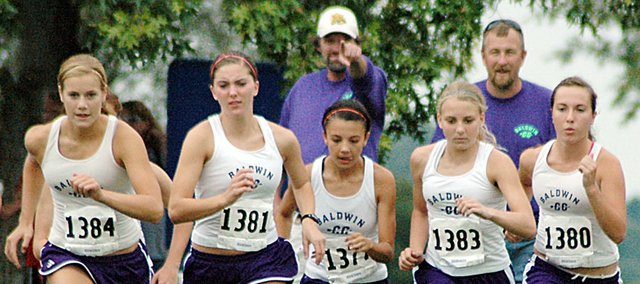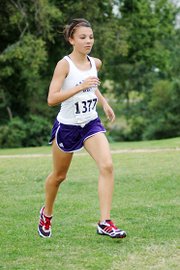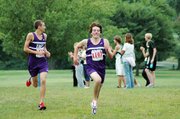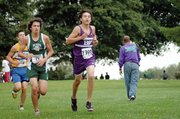 GARNETT — Sienna Durr and Katelyn Barnes wasted no time in unleashing their running talents here last Thursday.
Well, less than 17 minutes, officially.
For their first cross country meet, the pair of Baldwin High School freshmen shined. They placed second and fourth in the girls' varsity race to lead the Bulldogs to the team victory.
"They ran really well for their first meet," coach Mike Spielman said. "That's the great thing about being a freshman — you just go out, run and there's a chance you can run well and see what cross country is all about."
During their two years of junior high track, Barnes was winning the races. On Thursday, Durr led the way with her runner-up finish. She completed the 4-kilometer course in a time of 16:18.06. Durr finished 15 seconds behind De Soto junior Lacey Erickson.
"I was really surprised how good I felt," Durr said. "I was just surprised I was so close to that top girl, because she's really fast. I was so nervous before they shot the gun. I didn't want to say anything to any of the other girls."
Her freshman teammate wasn't as nervous for her debut because she's run the course several times. Her other races on the Garnett course were for the Amateur Athletic Union cross country regional.
However, Barnes was shocked at how well she ran. She placed fourth, running 16:52.04 in her first race.
"It was very exciting," she said. "I didn't expect to do that well. I felt really good today. I'm hoping to get better as the season goes along. I actually wasn't that nervous. I've run this course several times before so I'm pretty familiar with it."
Baldwin's next three runners all finished in the top 10. They were senior Julie Hill (8th), junior Heather Karlin (9th) and senior Connor Twombly (10th). All three runners finished before De Soto's fourth runner.
For the first mile, Twombly ran with Durr, but faded as the race carried on. Spielman knows it wasn't her best race, but he's confident she will bounce back this week.
"She'll be back up there, so we're not worried about her at all," Spielman said of Twombly. "That's the great thing about having seven of them. The other ones just step up in there and they're ready to go."
The Bulldogs' final two runners were sophomores Elizabeth Sigvaldson and Abi Hartzell. They finished 15th and 16th.
Baldwin won the team title with ease. BHS scored 33 points, while the rival Wildcats scored 48.
"They did a great job," Spielman said. "There were some girls that felt really well and ran well and there were some that didn't feel as well. That's part of it each week. We had a great seven as they all placed in the top 16. We have a lot of depth on the girls' side and I think that's showing."
On the boys' side, the Bulldogs were beaten by the Wildcats by a small margin. De Soto scored 40 to win as the Bulldogs totaled 46 as a team.
"We've got to close some gaps, because De Soto got us today," Spielman said. "They had two freshmen in the top eight, so that's a good thing for them. We have to shoot for them now. We come down here every year and it seems like we're always really close. We'll just keep working hard."
The team results surprised sophomore Brian Wright, as the Bulldogs were ranked No. 2 in Class 4A and De Soto was No. 4 in the state.
"De Soto surprised me today," Wright said. "They ran really well and they came into the season in really good shape."
Wright and junior Tony Weiss led the Bulldogs. They ran together for the entire race, but Weiss won the sprint at the end to win. Wright finished one second behind his teammate.
"It's nice to run with him," Wright said. "We communicate really well. We know each other's running styles and we push each other toward the end."
Baldwin's third runner was sophomore Tosh Mihesuah. He placed seventh in a time of 18:08.25. Juniors Joey LaBuda and Carson Barnes rounded out the Bulldogs' top five. LaBuda finished 16th and Barnes placed 20th.
Junior Kyle Garcia (29th) and senior Brandon Kraus (38th) were the Bulldogs' other two runners.
"We're running well right now," Wright said. "We're almost all underclassmen, which means we'll be together for at least two years."
Baldwin also had success in the junior varsity races. Sophomore Carol Whaley won the JV girls' race, while sophomore Shelby Gregory placed third. Juniors Ethan Horne and Tim Larson finished fourth and sixth in the JV boys' race.
"Carol had a great race," Spielman said. "That just makes us so much deeper on the girls' side. We will always have someone challenging for that varsity spot, so the girls on varsity better stay on their toes. The JV boys had our best pack. They had a nice pack of five or six guys. They did a great job of moving up through the race."
Baldwin will compete in the Wamego Invitational Saturday. The races begin at 9 a.m. at the Wamego Country Club.
"We've got a big one coming up," Spielman said. "It's just one after another here, one week at a time."