Bulldogs run well at opening meet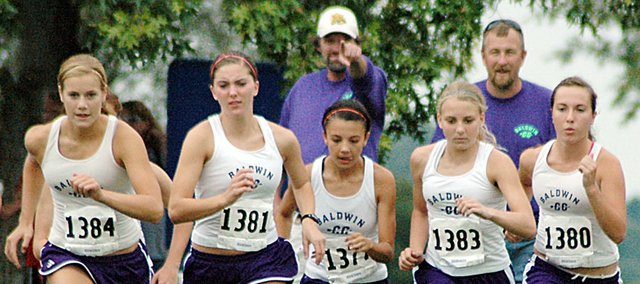 GARNETT — Baldwin High School's cross country teams began the season with first and second place finishes here Thursday.
Leading the way was the BHS girls' squad, as it scored 33 points to beat rival De Soto (48). A pair of freshmen led the Bulldogs. Sienna Durr finished runner-up in the race, while Katelyn Barnes placed fourth.
On the boys' side, the Bulldogs finished one, two individually. Junior Tony Weiss edged out sophomore Brian Wright to win the race. The Bulldogs scored 46 points to place second to De Soto (40).
Sophomore Carol Whaley won the junior varsity girls' race. Full results from the meet can be found at www.tickertiming.com.
Baldwin will next compete at the Wamego Invitational on Sept. 12.
There will be a full story with photos in the Sept. 10 edition of the Signal.