Neighbors: Jane Miller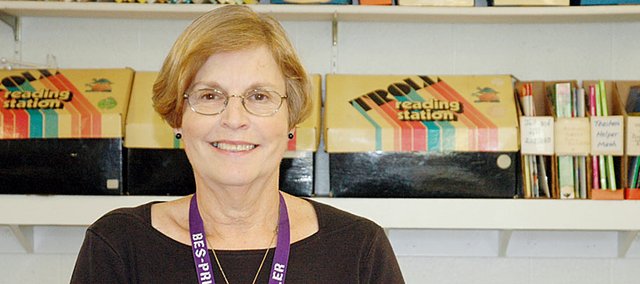 Name: Jane Miller
Occupation: Librarian at Baldwin Elementary School Intermediate and Primary Centers
Family: Three grown children
Place of birth: St. Joseph, Mo.
Q. How long have you lived in Baldwin City and what brought you here?
A. I've been here for 31 years after my husband got a job here.
Q. What's the biggest risk you've ever taken?
A. I've never been much of a risk taker.
Q. What's the best piece of advice you've ever been given?
A. Always do the best that you can.
Q. What two things would you want people to know about you?
A. I love the job of being a school librarian and I'm a happy person.
Q. What did you want to be when you grew up?
A. I thought I wanted to be a "private secretary" just like on TV.
Q. What's the best way for you to get away from it all?
A. Go outlet shopping at Osage Beach, Mo., with friends.
Q. What's your ideal vacation spot?
A. Williamsburg, Virg., and Jamestown, Virg. I love the history of that part of the country.
Favorite things
Song: anything by Henry Mancini
Movie: Mamma Mia!
Color: reds and pinks
Food: Guacamole