More honors go to Brown, Vintage Park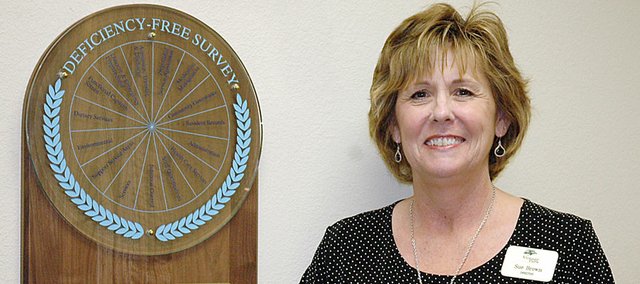 Good news just keeps coming Sue Brown's way this year. Tuesday she was named the 2009 Director of the Year by the Kansas Health Care Association.
"Wow, what a year," said Brown, Vintage Park Assisted Living director. "I am very honored to have been selected to receive this award. There are many assisted living facilities in Kansas and I know that all the directors are deserving of being honored.
"Although the job is rewarding, it is challenging to say the least," she said. "But having a job that makes a difference in the lives of others and being able to share in the lives of such special folks makes it extremely worthwhile. I am truly blessed. I love what I do."
Brown will receive the award during the KCHA conference in Wichita Oct. 13-14. That's one week after she'll pick up Vintage Park's National Quality Award in Chicago. That was from the American Health Care Association and National Center for Assisted Living.
But that's not all. Earlier in the summer, Vintage Park was recognized for its fifth straight year of attaining a deficiency-free survey from the Kansas Department of Aging.
"The fact that we have had five consecutive deficiency-free surveys is something I'm extremely proud of," said Brown. "We have been honored with two special awards this spring and summer that are neither easy to attain. I am so proud of all my staff for the exceptional job that they do to make sure the residents of Vintage Park receive the best care and services each and every day."
Vintage Park is a 38-unit facility at 321 Crimson Ave. that offers 24-hour staffing. Denise German, director of operations for the Vintage Park company, appreciates what Brown and her staff have accomplished.
"We are extremely proud of Sue Brown and her staff at Vintage Park for receiving these deficiency-free surveys," said German. "We know this takes a lot of hard work and dedication to achieve and we can commend all of them for their attention to detail."
Brown not only credits her staff for making Vintage Park what it is, but also the community as a whole.
"I am amazed at the community support we have here at Vintage Park," said Brown. "This summer we were blessed by so many community members bringing in garden vegetables. It was just amazing and so appreciated.
"We are continually blessed with volunteers from Baker University, Baldwin High School, area churches and individuals who give of their time and talents," she said. "This continues to amaze me even after nearly 10 years. What an awesome community in which to live your golden retirement years."
The week of Sept. 13-19 is National Assisted Living Week and Vintage Park will be celebrating. A food drive to benefit the Community Food Pantry will be conducted and people are encouraged to drop off donations throughout the week.
"'Traditions of the Heart,' the theme for National Assisted Living Week, holds true every day as 'giving from the heart' is a way of life for the Baldwin City Community," said Brown.